Jimmy Mizen's parents back restorative justice calls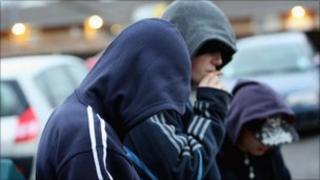 The parents of a teenager who was stabbed to death are part of a group calling for all crime victims to be involved in the sentencing process.
Barry and Margaret Mizen, whose son, Jimmy, 16, died in 2008, are among 30 signatories to a letter in the Times.
Criminal justice reform proposals are currently being developed by ministers.
And the government is consulting about proposals to widen the use of restorative justice to cover low-level crime to cover low-level crime and anti-social behaviour.
But the letter in the newspaper, which has the backing of former Attorney General Lord Falconer and former chief inspector of prisons Dame Anne Owers, calls on the government to "ensure through legislation that this process is offered to all victims of crime, whenever an offender pleads guilty to their offence and agrees to participate".
'Cut reoffending'
The letter says: "Research published by the Ministry of Justice shows that the majority of victims choose to participate in restorative justice meetings with their offenders when this is offered."
Research suggests 85% of victims who participate are "satisfied with the process, because it gives victims a say, answers to their questions, and reparation that means something" and the meetings cut reoffending by "at least" 14%, it adds.
Others who have given their backing to the letter include former Tory MP Jonathan Aitken, Norfolk Constabulary Chief Constable Phil Gormley, the Bishop of London - the Right Reverend Richard Chartres - and Professor Mike Hough of the Institute for Criminal Policy Research.
In January, two independent groups calling for an end to Crown Court trials for children in England and Wales, called instead for most child suspects to be dealt with by restorative justice meetings.
'Widely used'
A Police Foundation and Justice report said most allegations involving 10- to 17-year-olds should be dealt with in this way.
In response, the Ministry of Justice said restorative justice was "already widely used in the youth justice system".
Jimmy Mizen was murdered during an attack in a south London bakery.
His killer, Jake Fahri, 19, from Lee, south London, was sentenced to life in prison in March 2009.
He was told he would serve at least 14 years behind bars.