Arms export deals: MPs criticise UK's stance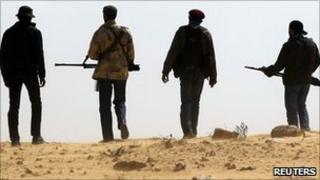 Ministers past and present have been criticised over the UK's export of weapons to regimes in Africa and the Middle East.
The cross-party Committees on Arms Exports Controls accused ministers of "misjudging" the risk that the weapons might be used for internal repression.
Countries recently sold UK arms include Libya, Egypt and Bahrain.
But the government, which has revoked arms licences to several countries, said its safeguards were "robust".
As recently as last year, the UK approved arms exports to regimes that have used force to confront popular uprisings.
Ammunition and tear gas were sold to Libya, with sniper rifles, sub-machine guns and CS grenades exported to Bahrain. Parts for armoured vehicles and weapons also went to Egypt.
The cross-party group of MPs noted that since January the government had "been vigorously backpedalling", revoking a total of 160 arms export licences.
In February, dozens of licences for the export of arms to Bahrain were revoked after a Foreign Office review amid fears over the suppression of protests there.
'Mistake'
Some 24 individual licences and 20 open licences for Bahrain were revoked and eight individual licences for Libya.
Following the move, the Foreign Office said there was no evidence UK equipment had been used in the military crackdown on protesters.
But the MPs said the current government and the previous Labour administration had misjudged the risk.
Conservative MP Sir John Stanley, who chairs the arms committee, told BBC Radio 4's Today programme: "The mistake that was made was to sell particular categories of weapons that could be used for internal repression... even though the policy of this and previous governments was not to sell them when there was a risk of internal repression."
But Sir John also said: "We fully recognise that a large sector of the arms export industry is perfectly legitimate."
Shadow business secretary John Denham responded to the criticism by insisting that export controls were "significantly tightened" under the last Labour government, creating "one of the most rigorous control systems in the world".
He said: "In government we merged the UK criteria list with that of the EU to strengthen oversight, restricted the sale of defence goods to a third party after incorporation with the buyer's own technology and required government to produce a quarterly report on export licence approvals and refusals for that period."
The group of cross-party MPs also called for stricter controls and urged the government to set out how it can reconcile the potential conflict of interest between promoting arms exports while upholding human rights.
Their criticism was not confined to the sale of arms to authoritarian regimes.
The MPs said they were deeply disturbed that, until recently, a British company had been allowed to export chemicals to the US which were used to execute prisoners on death row.
A Department for Business, Innovation and Skills spokesman said: "We will consider the report's detailed conclusions and recommendations carefully and will submit our response to Parliament in due course."
The UK operated "one of the most robust and transparent arms exports control systems in the world", he added, saying: "Respect for human rights and freedoms are mandatory considerations for all export licence applications and we do not export equipment where there is a clear risk it could be used for internal repression."