Minister Greg Barker defends Thatcher cuts comment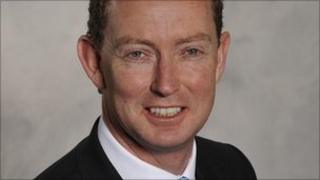 A minister has been forced to defend a speech in which he said the government was "making cuts that Margaret Thatcher could only have dreamt of".
Climate Change Minister Greg Barker came under fire after making the remark to an audience in the US.
Labour's Angela Eagle accused him of "letting the cat out of the bag" over the coalition's true agenda.
But Mr Barker said ministers had been forced to take tough decisions because of the previous government's mistakes.
'Good housekeeping'
Conservative MP Mr Barker was speaking at the Darla Moore School of Business in Columbia on Friday.
"We have a clear and absolute mission and that is to deal with our overweening budget deficit and as a result were having to seat about some very tough cuts," he told the audience of academics.
"We are making cuts that I think Margaret Thatcher, back in the 1980s, could only have dreamt of.
"Many government departments are seeing their budgets slashed by up to 30%. We are questioning the whole range of government programmes, some of them really quite good, but simply recognising there isn't the money there to do it."
He said the government was committed to reducing the UK's budget deficit by 75% over four years, and although unpleasant, the move was "an unprecedented piece of good housekeeping in British history".
Reacting to the speech, shadow Treasury secretary Ms Eagle said: "Greg Barker has let the cat out the bag about the ideological agenda behind this Tory-led government's deep cuts to public services.
"But while Conservatives might dream about deep cuts, for millions of families it's more like a nightmare.
"As Nick Clegg himself admitted last month, it was the government's political choice to cut further and faster than any other major country in the world.
"There have to be tough choices to get the deficit down, but by going too deep and too fast George Osborne is hitting families hard and holding back an economy which should be growing strongly this year."
Following Labour's attack, a Conservative Party source suggested Mr Barker had used a "slightly unfortunate choice of words" in the context, because "dreamt of" made the scale of the cuts sound "aspirational" rather than regrettable.
Mr Barker himself issued a statement saying: "I was making the point that thanks to the mess we inherited from Labour, we are having to make very difficult decisions, much tougher than would have been imagined in the 1980s.
"Even Alistair Darling himself admitted that Labour overspending meant that they would have been forced to make tougher and deeper cuts than Margaret Thatcher."