Prince Harry says he hopes for a return to active service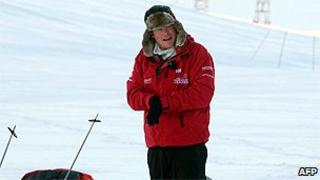 Prince Harry has said he seriously hopes for a return to active military service when he has finished training as an Army Apache helicopter pilot.
The prince spoke to the BBC's Frank Gardner in the Arctic, where he joined wounded servicemen walking to the Pole.
"You know money's been spent towards your training - God knows how much money's been spent on us," he said.
He also said the nation must remember the needs of wounded service personnel "for years to come".
The prince has previously been disappointed when a tour of duty in Iraq was cancelled and a later assignment in Afghanistan was cut short following media publicity.
But he spoke of the way in which his Afghan mission had brought the plight of his wounded comrades home to him.
Veterans
"On the plane on the way back, I came back with a couple of severely injured guys - but it's happening the whole time," he said.
"We never hear about it. The media are either kept in the dark or chose not to write about it for morale's sake.
"What's going to happen to all these guys once they finish at Selly Oak, at Headley Court?" he asked, referring to the Birmingham hospital and rehabilitation centre where many wounded personnel are treated.
"Within the MoD, we have to look after them, within the NHS, within the country itself. There are veterans, 50, 60 years old that we haven't paid that much attention to. There are so many wounded guys now and they need to be looked after for years go come."
On the issue of his own service to his country, he said: "As with every other pilot or any other serviceman, you know money's been spent towards your training - and with the Apache, you know, God knows how much money's been spent on us, every flight that we do," said the 26-year-old prince.
"So from their point of view if I'm not going then I'm taking up someone else's space."
He said there would be concern in his family as in any other, but insisted that his grandmother, the Queen, "understands more than anybody else that I'm serving my country."
His brother Prince William is also a helicopter pilot, in the RAF, and Harry said: "While we're doing military services we may not be seen doing public engagements as much as the rest of the family, but you know, we've got a job to do."
The prince joined four wounded soldiers in the Norwegian Arctic territory of Svalbard as they began a 200-mile trek to the Pole to support the charity Walking With The Wounded.
He also spoke of his preparations for the wedding of his brother Prince William on 29 April, when he will be best man.
William would love to have "a really small wedding with just his really close friends - but you know, we are who we are and the position comes with it and the role comes with it," he said.
He said his speech would be "pretty standard" - but he and a couple of friends of William's would "make sure we'll dig him in the ribs a few times and embarrass him. And make him lose some hair."