Theresa May welcomes Winsor report on police perks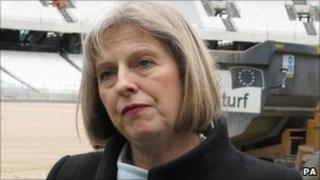 Home Secretary Theresa May has welcomed the principles set out in the Winsor report on police pay and conditions.
Former rail regulator Tom Winsor's report recommended scrapping a range of allowances and special payments, saving £485m over three years.
The Police Federation of England and Wales said some officers could have their pay reduced by 15-20%.
But Mrs May said the proposals "provide the right framework for fair and sustainable arrangements".
She has asked the Police Negotiating Board and the England and Wales Police Advisory Board to consider Mr Winsor's recommendations as a matter of urgency and report back to her by the end of July.
Mr Winsor has said officers who lost out under his reforms would be those in positions largely confined to police stations and not requiring specialist skills and overtime.
But some officers would gain up to £2,000 a year in recognition of their skills and the demands put upon them.
A professional accreditation allowance of £1,200 would be introduced for most detectives, firearms, public order and neighbourhood policing teams.
The review calls for an end to the £1,212 competence-related threshold payment and the Special Priority Payment of up to £5,000 and says no officers should move up the pay scale for two years.
It also suggests suspending chief officer and superintendent bonuses.
Mr Winsor found all basic pay contained a payment for working unsocial hours, even though only about 57% of lower rank-and-file officers regularly did so.
His report says: "At present officers have too great a say on how they are deployed and if, not when, they leave the service." It calls for an end to what Mr Winsor describes as "secured indolence" by ensuring officers remain on the force for the right reasons.
The government is planning to cut its £11bn funding for the police by 20% by 2014-15.
The 43 forces in England and Wales currently employ about 244,000 people, comprising 143,000 police officers and 101,000 civilians.