Sir Gerald Kaufman apologises for 'Jews' remark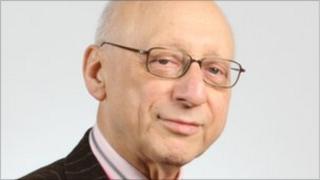 Labour MP Sir Gerald Kaufman has apologised for saying "Here we are, the Jews again" when a fellow Labour MP stood up in the Commons.
He made the remark when Louise Ellman rose to make an intervention during the report stage of the Police Reform and Social Responsibility Bill.
Mrs Ellman and Sir Gerald are both Jewish but hold differing views on the Israel-Palestinian conflict.
The Manchester Gorton MP said he was sorry for any offence he had caused.
Liverpool Riverside MP Mrs Ellman has not publicly commented on the remark, but Conservative MP for Hendon, Matthew Offord, said he intended to make a complaint about the use of "unparliamentary language".
In a statement released by the Labour Party, Mr Kaufman said: "I regret if any remarks I made in the chamber caused offence. If they did, I apologise."
The comments were made during a debate over plans to change the law on universal jurisdiction.
Currently, an arrest warrant against a suspected war criminal can be sought by anyone providing they can satisfy a senior judge that there is a case to answer.
Labour's Ann Clwyd said ministers were trying to usher in a change to the law which would require the Director of Public Prosecutions to personally sign off on any arrest warrant before it could be issued.
She said ministers were acting on the behalf of the Israeli government after an arrest warrant was issued for former foreign minister Tzipi Livni in December 2009. The arrest warrant was revoked when it was found Ms Livni was not visiting the UK.
When Mrs Ellman stood up to intervene in Ms Clwyd's speech, Sir Gerald said from his seat: "Here we are, the Jews again."
His comment was picked up by the microphone because he was sitting close to Ms Clwyd.