Royal wedding: Gifts give way to charity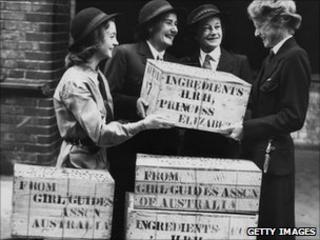 Why have Prince William and Kate Middleton shunned the traditional wedding gift list? In a time of financial austerity, it makes sense not to appear extravagant. But their decision to ask for donations to small charities hints at how royal links with good causes have changed, says BBC royal correspondent Peter Hunt.
Never mind the bone china crockery and the lilac coloured fluffy towels. Prince William and Kate Middleton are unlikely to have to deal with the challenge which has confronted the prince's relatives - how to respond diplomatically to some of the gifts people choose to send royals on their wedding day.
William's grandmother received 500 cases of tinned pineapple. It was what the government of Queensland thought 1947 post-war Britain needed.
Closer to home, two young women wrote to the then Princess Elizabeth to explain that they were "so excited and thrilled" when they heard the news of her engagement on the wireless that they burnt their toast to a cinder. Enclosed with their note of congratulations, according to the future queen's governess at the time, were two slices of very damp toast.
William and Kate are looking for money, not morsels - and they won't be the beneficiaries.
Instead, they've chosen 26 charities which aren't that well known. They're based in Canada, Australia, New Zealand and, of course, the UK. The organisations do a variety of work including helping young people and service personnel; and tackling conservation issues.
Donations can be made in six currencies via a new website.
Many are grassroots organisations. IntoUniversity, for example, says it works with "talented children from tough neighbourhoods" who need extra support if they are to succeed in life. PeacePlayers International uses sport to bring young people in Northern Ireland together. The charity argues the children they work with "represent the building blocks of peace for the future".
As well as raising money for many good causes, this move by a couple who aren't short of a bob or two may well - at a time of cuts - deflect any criticisms of royal extravagance.
William's parents followed a more conventional route.
Princess Diana drew up a gift list. As she said in a pre-wedding day interview, "We've got two houses to fill". It was a very different time 30 years ago. A republican Labour MP wasn't voicing the opinion of the majority when he declared, "The winter of discontent is being replaced by the winter of phoney romance".
This focus on charity by the couple will not be a one-off. Supporting good works has become a mainstay of the modern British monarchy.
Charitable entrepreneur
The approach has evolved. Once, royals were hands-off high-profile figureheads for established national organisations. By contrast, Prince Charles, with time on his hands, has set himself up as a charitable entrepreneur.
The heir to a still very much occupied throne is patron or president of 20 charities from Glasgow to Kabul. He founded 18 of them himself.
The proud boast of his advisers is that this group is the largest multi-cause charitable enterprise in the UK, raising more than £100m each year. Prince Charles' not inconsiderable task is to continue doing this at a time of potentially sustained belt-tightening.
Watching these royal developments with interest is the historian and Labour MP, Tristram Hunt (no relation!). He has written about how, "no senior royal has done more than the Prince of Wales to configure this shift" towards what the MP for Stoke-on-Trent Central has christened the "so-called welfare monarchy".
Mr Hunt told the BBC that at a time of the Big Society - where the emphasis is moving from government action to charitable endeavour - the role of the royals is elevated. The opposition MP went on, "Their actions in the Third Sector will become more and more fundamental to their purpose as everything retreats".
This is a path down which Prince William has just begun to venture.
So far, he supports 21 causes. The list will grow. His wife-to-be will also have to acquire some. With Prince Harry, Prince William has created a foundation to make charitable grants.
As with so many other areas of his life, the cautious prince is feeling his way. While he does, William can be thankful that his altruistic wedding day act has potentially spared him and Kate from a sustained diet of tinned pineapple.