2012 disability ticketing set out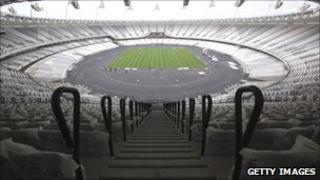 Tickets and practical help for disabled people applying to go to London 2012 have been announced by organisers.
The London Organising Committee of the Olympic and Paralympic Games said accessible tickets would be available for every venue, sports session and price category.
They include wheelchair and companion spaces, seats nearer exits, or close to the action or information screens.
Disability groups welcomed the move but said ticket prices remained a problem.
Disabled people will apply for tickets online or using the paper application forms as with all other applications.
They will be able to ask for accessibility requirements, such as:
a seat down fewest steps for those who find stairs difficult,
one on the end of a row if they need extra room,
with a direct view of information screens if they are deaf or hearing-impaired,
a seat near the front if they are visually impaired.
Those needing a wheelchair or mobility-scooter space, including a companion space, will be able to request one online. If they use their application form to apply for tickets for accompanying family and friends, they will be seated as close by as possible.
Locog has also released details of its Ticketcare scheme, available only to disabled people who do not need a wheelchair space, but require a carer or assistant to be with them.
If their ticket application is successful, they will then be able to apply for a free additional carer ticket through Locog's ticketing customer services team.
Rebecca Rennison, senior policy officer at Leonard Cheshire Disability, said she was pleased to see Locog's "commitment" to ensuring disabled people could go to the Games and its provision for different access requirements.
She said: "It is also great news that Locog will be providing free carer or personal assistant tickets, so that people who cannot go to the games without extra support are able to attend.
"But we are disappointed to see that while young and older people can access concessionary tickets, these will not be available to disabled people, students or the unemployed, who may struggle to afford full price tickets.
Watching the Games, she said, was "a once in a lifetime opportunity, and we are concerned that many people will simply be priced out".
According to Government figures, more than 10m people in the UK have a disability including about one in 20 children, one in seven adults of working age and almost one in two people over state-pension age.
Locog will also provide other services including blue badge parking spaces at all venues, some accessible shuttle buses, manual wheelchair loan, facilities for assistance dogs, audio description, induction loops and toilets with hoists.
Locog chairman Seb Coe said: "Our aim has always been to provide a wide range of services and ticket products for disabled people tailored to their needs, rather than a 'one size fits all' approach.
"We want to ensure that disabled spectators have as great a Games experience as anyone else and we are committed to providing services and facilities that meet all accessibility requirements."
The ticket application process opened on 15 March and closes on 26 April.
People can apply online from Locog's website, or using a paper form from Lloyds TSB in England and Wales, or Bank of Scotland in Scotland and at libraries in Northern Ireland.
Braille or large print copies of the ticketing guide are available from Locog.