Phone hacking: Chris Bryant concedes advice change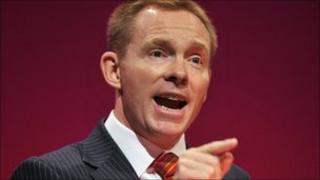 An MP who says his phone was hacked has conceded that legal advice to police about the criminality of hacking phones may have changed.
However, Chris Bryant accused a senior Met officer of being "disingenuous" to maintain there were very few hacking victims in the News of the World case.
Police are re-examining evidence from two 2007 convictions for phone hacking.
The Met's John Yates said Mr Bryant had not gone far enough in apologising over claims he misled Parliament.
Both men appeared before the home affairs select committee on Tuesday to answer questions about Mr Bryant's claims that Mr Yates misled Parliament by saying there were only between eight and 12 victims of investigator Glenn Mulcaire and reporter Clive Goodman.
Mr Bryant, questioned immediately before Mr Yates, said it had been "disingenuous in the extreme" for Mr Yates to claim there were few victims of phone hacking, because the Met had failed to properly investigate much of the evidence.
'False impression'
"In the end, my complaint is all this evidence has sat there, the police didn't interrogate it, for whatever set of reasons, lots of people ended up having a completely false impression and the full criminality was not heard," he said.
Mr Yates had previously said that the Crown Prosecution Service advised it was necessary to prove a voicemail message had been intercepted before the phone's owner accessed it to show an offence had been committed. However, the Crown Prosecution Service has denied defining this "narrow approach".
Mr Bryant told the MPs: "It is true that in the very early days a lawyer at the Crown Prosecution Service may indeed have advised this. However, the director of public prosecutions has made it clear that this point had no bearing on the charges brought against Mulcaire and Goodman, or the proceedings generally."
He said he knew of eight MPs who have been shown material by police that indicated their phones might have been hacked. Several celebrities and public figures have taken action against the News of the World.
"My complaint, I suppose, is that the police gathered a vast amount of material in 2006," Mr Bryant said.
"It wasn't until last week that there was any suggestion that that material had never been properly interrogated to see whether there was evidence that people had been hacked or not, which is why I think it was disingenuous in the extreme to suggest there were very few victims, because he could not possibly have known whether that material had large numbers of victims, because he had never bothered to look at it," Mr Bryant said.
'Very serious allegations'
In his second appearance before MPs in a week, Acting Deputy Commissioner Yates again rejected claims that he had misled Parliament.
He claimed Mr Bryant had made a "very, very important concession" about the Crown Prosecution Service's advice to the Met about what constituted an offence.
"Mr Bryant in the adjournment debate made some very serious allegations about my integrity and I have seen some concessions from him today, although he hasn't gone as far as I would like him to in terms of apologising," Mr Yates said.
"He's clearly conceded that he was wrong on the issues around advice."
Libel action
Mr Yates confirmed to the MPs reports that he had consulted lawyers regarding libel proceedings.
"I have objected, and I think it's quite proper of me to do so, to some of the more colourful and untruthful reporting.
"I think I am entitled to defend my integrity. There is fair comment and fair reporting and there is unfair comment and unfair reporting. Then there is the interpretation people put on it," Mr Yates said.
"All I have said is I'm protecting my position and I'm not undertaking any legal proceedings against anybody at the moment."
Asked by Labour MP Steve McCabe if he had asked for public funds to be made available if he chose to pursue a legal action, Mr Yates said: "I've sought authority in these areas, yes, but I'm not doing so."