FCO hired two flights to help 18 people leave Bahrain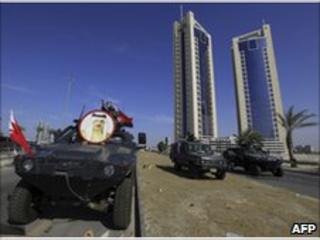 The UK government spent more than £175,000 chartering two aircraft to help just 18 people escape protests in Bahrain, it has emerged.
The decision to charter the aircraft was taken after days of violent clashes in the Gulf state's capital, Manama.
A number of people had been killed as Bahrain's Sunni Muslim rulers called in Saudi troops to help keep order.
Seats, intended for people who could not get places on commercial services, were priced at £260.
The Foreign and Commonwealth Office had urged anyone without a pressing need to stay in Bahrain to leave as soon as possible, ideally by commercial means.
That advice remains in force, and the government is continuing to advise against travel to the area.
Answering a question from an MP, junior foreign office minister Alistair Burt said the £175,000 cost did not include passenger taxes and insurance, for which his department was still awaiting the final bill.
A spokesman defended the charters, describing them as a "sensible precautionary measure."
"Our first priority is always the safety and security of British nationals," he added.