Prince Charles at London service for NZ quake victims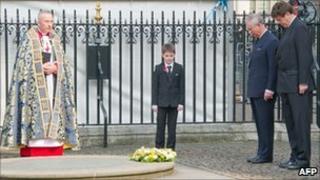 The Prince of Wales has joined hundreds of people at a Westminster Abbey memorial service for the victims of February's New Zealand earthquake.
Testimonies were heard, and Charles laid a wreath of white and yellow roses carrying a Maori message reading: "You will be remembered always".
NZ Prime Minister John Key sent condolences to Britons who lost loved ones, and thanked UK rescue teams.
At least 166 people died in the magnitude 6.3 quake in Christchurch.
Four Britons are thought to have died in the earthquake. Following the service, Charles met 47 people who had been affected, including those who had lost relatives and friends.
The congregation numbered about 1,900 - mainly made up of London-based New Zealanders.
Prayers were said by former All Black player Anton Oliver and actor Kerry Fox, and New Zealand soprano Hayley Westenra broke down in tears as she read out a testimony.
New Zealand's High Commissioner to London, Derek Leask, was also in attendance.
'Very emotional'
In his message, the country's prime minister said: "This was not just a tragedy for Christchurch or New Zealand, it was an international tragedy that's had its impact on many around the world, including many here in Britain."
Mr Key added that the support received from the British people had been "humbling".
Peter Crook, who was in charge of the UK search and rescue team efforts, told the service the New Zealand operation had been a harder one than usual as the country is "so similar to home".
He said: "It's so recognisable, we could have been in the UK. This made it easier to relate to and more personal. It was very emotional, the whole thing."
Earlier this month, Prince William addressed a national memorial for quake victims in Christchurch during a tour of disaster-hit areas in New Zealand and Australia.