Army medic Kylie Watson awarded Military Cross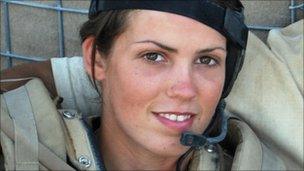 A British army medic who put herself in "mortal danger" to treat a wounded Afghan soldier under heavy Taliban fire has been awarded the Military Cross.
L/Cpl Kylie Watson, from Ballymena, Co Antrim, gave medical care in exposed open ground for 20 minutes.
Her citation spoke of her "immense courage" and "inspiration" to her platoon in Helmand province last year.
L/Cpl Watson is believed to be only the fourth woman to receive the MC, the third highest award for gallantry.
On another occasion L/Cpl Watson, of the Royal Army Medical Corps, ran 100 metres in full view of the enemy under sustained fire to give life-saving first aid to an Afghan soldier who had been shot twice in the pelvis.
Her citation read: "Watson's immense courage, willingness to put her own life at risk and absolute bravery saved the life of one warrior and acted as an inspiration to her platoon and their Afghan National Army partners."
Royal Marine Mark Jackson has been been awarded the Conspicuous Gallantry Cross (CGC) after he picked up and threw back an enemy grenade before lying on a comrade to shield him from the blast.
The incident happened when Marine Jackson was on look-out duty at a remote patrol base in Afghanistan's Helmand province on 24 August last year.
His medal citation said: "Improvised grenades such as these are notoriously volatile and this one could have detonated at any moment.
"Jackson was well aware of the risk, his only thought was for the life of his comrade who, had he hesitated for one moment, would have been killed."
L/Cpl Watson and Marine Jackson are among 136 service personnel, most of whom served in Afghanistan with 4 Mechanised Brigade between April and October last year, to be named in the latest military honours list.
Their awards will be presented at a later date.
Four of the awards on the list are being made posthumously, and include two soldiers shot dead trying to rescue a wounded colleague in the Lashkar Gah district of Helmand in July.
Cpl Matthew James Stenton, from Wakefield, Yorkshire, serving with the Royal Dragoon Guards, and L/Cpl Stephen Daniel Monkhouse from Greenock in Inverclyde of the 1st Battalion Scots Guards, have both been awarded the MC.
Staff Sergeant Brett George Linley, 29, who gets the George Medal, died on 17 July 2010 as he worked to clear improvised explosive devices from a major route in Nahr-e Saraj. The 29-year-old, from Birmingham, served with the Royal Logistic Corps.
The other posthumous award of a Conspicuous Gallantry Cross went to Cpl Seth Stephens of the Royal Marines.
Details of three other awards on the list were announced on Friday, after a ceremony at the National Army Museum in Chelsea honouring 28 of the recipients.
They include a Gurkha who single-handedly fought off an attack by at least a dozen Taliban insurgents. Acting Sergeant Dipprasad Pun, 31, from Ashford in Kent, used up all of his ammunition and resorted to using his machine gun tripod to repel the attack in September. He was given the Conspicuous Gallantry Cross.
Related Internet Links
The BBC is not responsible for the content of external sites.