Foreign prisoners win £1 over UK false imprisonment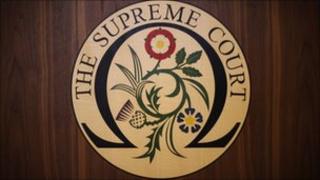 The UK Supreme Court has ruled that the Home Office unlawfully imprisoned two foreign national prisoners in a "serious abuse of power".
The men, from Jamaica and the Democratic Republic of Congo, were detained in 2006 pending deportation after jail sentences.
Lord Dyson said there had been a "deliberate decision taken at the highest level to conceal the policy".
The court said the men were entitled to nominal damages of £1 each.
New policy
The case dates back to 2006 when the Home Office was rocked over the release or more than 1,000 foreign national prisoners who had not been fully considered for deportation.
The then Labour Home Secretary, Charles Clarke, was sacked. His successors, John Reid and Jacqui Smith, operated a new policy that meant virtually no foreign national prisoners would be released while deportations were considered.
But this new policy was not published - and it was not until two years later that the Home Office fully explained that foreign national prisoners should expect to be detained for deportation at the end of their sentences.
One of the two men, Walumba Lumba, arrived unlawfully in the UK from the DRC in 1994 and was later jailed for four years for a wounding. He was told in 2006 that he would be deported - but eventually left voluntarily in February 2011.
The Jamaican prisoner, Kadian Mighty, had been jailed for 42 months for a drugs offence. He too was detained pending deportation in 2006 - but later released on bail after mounting a legal challenge.
'Abuse of power'
In a majority ruling of 6-3, the Supreme Court justices said the Home Office could have lawfully detained both the prisoners - but it had broken the law by failing to follow its own published rules. The judgement in favour of the men was not on human rights grounds.
Lord Hope, deputy president of the court, said there had been a "serious abuse of power and it was deplorable".
"The application of the secret policy did not render the detention of the appellants unlawful," said Lord Hope.
"If the published policy had been applied they would have been detained anyway and that, had they challenged their continued detention, they would have had no legitimate expectation of obtaining an order for their release."
But he added: "The court must insist that powers of detention are exercised according to law. If they are not, those who have abused their powers must accept the consequences."
David Wood of the UK Border Agency at the Home Office said: "I am pleased that the Supreme Court determined that these individuals should only be awarded nominal damages, which we are advised is typically no more than £5, but we take on board the court's criticisms of the Home Office's conduct prior to 2008.
"Our detention policy is now clearly laid down in law, and we will continue to take robust action against criminals - removing thousands each year that have no right to be here."