Newspaper review: Libya air strikes dominate headlines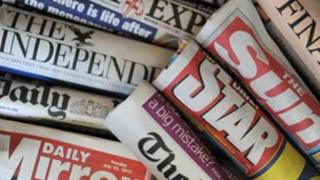 The ongoing enforcement of a no-fly zone over Libya by a coalition of countries, which includes the UK, features prominently in several newspapers.
The Times, Daily Mirror and Daily Star lead on the use of human shields by Col Gaddafi's regime to foil air attacks.
The Times quotes a government spokesman claiming thousands of men and women are now at airports, military facilities and other sites across the country.
The Star and the Mirror say women and children are being rounded up at gunpoint to act as human shields.
Mission cracks
Meanwhile, the Financial Times reports on tensions in the coalition, referring to diplomats who say the US and UK were angered by France's decision to launch the first attack without fully informing its allies.
The head of the armed forces has clashed with ministers over the legality of a strike to kill Col Gaddafi, according to the Daily Mail and Daily Telegraph.
And the Independent says Italy's government has warned it will review the use of its air bases unless Nato assumes command of the mission.
Festival nostalgia
The government is to reduce the number of visas given to students from outside the EU, according to several papers.
Writing in the Sun, Home Secretary Theresa May says measures to be announced on Tuesday will cut the annual figure by up to 80,000.
And the Guardian predicts a wave of nostalgia at festivals this summer.
Reporting that "nostalgia is every bit as good as it used to be" it says Pulp, the Strokes and the Cure will headline some of the UK's biggest music events.
Televised debate
The Times says Mohamed Bin Hammam, head of the Asian Football Confederation, is ready to join forces with Uefa's chief to oust Fifa president Sepp Blatter.
He is running against Blatter in the election for Fifa presidency on 1 June.
The Daily Telegraph says Bin Hammam is considering striking a deal with Michel Platini that would see him step aside for the Frenchman after four years.
The Guardian says the Qatari has challenged his rival to a live presidential-style television debate.