Law Commission expert evidence proposals outlined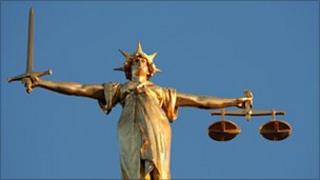 Proposals to prevent people being wrongly convicted or acquitted on the basis of flawed expert evidence have been outlined by the Law Commission.
It says judges in England and Wales should be able to exclude evidence from experts such as scientists and doctors.
Evidence would fail a reliability test if an opinion was based on "flawed data", "unjustifiable assumptions" or techniques were not "properly applied".
Contentious expert evidence has led to high-profile miscarriages of justice.
In 1998, Mark Dallagher was found guilty of murder on the basis of expert evidence that he had left a unique ear print on a window pane at the crime scene.
After almost seven years in prison, Mr Dallagher was freed when DNA tests showed the ear-print was not his.
The Commission said the case demonstrates why courts should have a statutory power to prevent juries hearing unreliable expert evidence.
And the evidence of the paediatrician Professor Sir Roy Meadow was used in the Angela Cannings prosecution, which involved sudden infant death.
Overturned convictions
Mrs Cannings was found guilty of smothering her seven-week-old son in 1991 and her 18-week-old son eight years later.
These convictions were later overturned.
The judges who released her ruled that no-one should be prosecuted solely on the basis of medical opinion which was disputed between experts.
Sir Roy was later found guilty of serious professional misconduct and struck off the medical register, but was reinstated after an appeal which overturned the GMC's verdicts.
The paediatrician also gave evidence in the case of Donna Anthony who was freed on appeal in 2005 after being imprisoned for life eight years earlier for killing her 11-month-old daughter and four-month-old son.
Her case was one of the 28 referred to the Criminal Cases Review Commission after Mrs Cannings was released.