Royal wedding: Kate to use car damaged in protests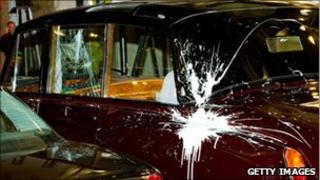 Royal bride-to-be Kate Middleton will be driven to her wedding in the same luxury car that was attacked in student protests last year.
The Rolls-Royce, damaged as it took the Prince of Wales and Duchess of Cornwall to a theatre, is being repaired for Kate and Prince William's wedding.
The newlyweds will then ride in the carriage used by William's parents after their wedding in 1981.
The 29 April travel arrangements have been released by the Royal Mews.
Prince Charles and Camilla were heading to the Royal Variety Performance in December when the Rolls-Royce Phantom VI limousine car was splattered with white paint and had a rear window cracked.
News that the same car - a present to the monarch on her Silver Jubilee in 1977 - was being used to take Kate to Westminster Abbey was revealed by Crown Equerry Col Toby Browne.
He said the damage was not extensive and insisted repairs would be completed in time.
"One of the problems [is] it's such a special car there are details that have to be reproduced and are not available off the shelf," he said.
"The claret paint is specific to [all royal] cars and certain bits of glass had to be made, but it's really a minor detail you won't notice."
Stylish carriage
Royal Mews staff also revealed that after the ceremony, William and Kate will probably parade past crowds in an open-topped horse-drawn carriage as part of a Captain's Escort mounted by the Household Cavalry.
The 1902 State Landau was famously used by the Prince and Princess of Wales when they drove from St Paul's Cathedral to Buckingham Palace after their wedding.
However, if it is raining, they will use the Glass Coach instead because it has a permanent roof.
Princess Diana memorably used it as her bridal carriage in 1981, and senior carriage restorer, Martin Oates, said it was the vehicle "everybody wants to see".
"It has been used over the years as the bridal carriage. This was the carriage that Diana and Sarah Ferguson used to go from Clarence House to their churches," he said.
The 1902 State Landau, adorned with gold leaf and upholstered in crimson satin, is normally drawn by six horses but four will be used for next month's royal wedding.
It also emerged that Kate's parents Michael and Carole Middleton and her supporters will travel in a total of eight state cars to the Abbey.
William and Kate's carriage will be followed by two separate Ascot Landau carriages carrying Prince Harry, William's best man, Pippa Middleton, Kate's maid of honour, and the young bridesmaids and page boys.
Charles and Camilla will ride in a semi-state Landau and will be joined by Mr and Mrs Middleton.
The Queen and the Duke of Edinburgh will be carried in another Landau.
Meanwhile, the anti-monarchy group Republic says its latest survey shows almost 80% of people do not care about the royal wedding.
It says 78% were either "largely indifferent" or "couldn't care less" when asked - in contrast to the "hype" in some areas of the media.
When an ICM poll of 2,013 people asked how excited or otherwise they felt, 3% said "very excited", 18% "fairly excited", 46% "largely indifferent", 32% "couldn't care less", and 1% answered "don't know".
The survey also showed one in three people believed the BBC's coverage was biased in favour of the royals.
A BBC spokesman declined to comment, and said the corporation was yet to announce any details of its royal wedding coverage.