Lower drink-drive limit rejected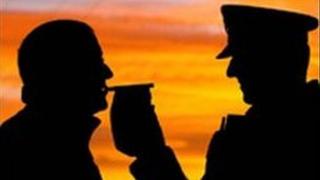 Ministers have rejected lowering the legal drink-drive limit by nearly half, as recommended in a government-commissioned report.
Its author Sir Peter North had said the limit should be reduced, saying it would save hundreds of lives each year.
The transport secretary said improving enforcement would have more impact.
He has approved some new measures to tackle both drug and drink-driving, but safety and doctors groups have called the decision a "missed opportunity".
The British Medical Association (BMA) said it was "extremely disappointed" about the drink-drive limit decision, saying it had campaigned for the move for 20 years because it believed it would "reduce the number of lives ruined by drink-driving".
The measures Transport Secretary Phillip Hammond has accepted include introducing improved detection equipment and making changes to streamline enforcement.
The government will also consider whether a new specific drug-driving offence - alongside the existing one - is needed, to stop police from having to prove impairment on a case-by-case basis where a specified drug has been detected.
'Entrenched behaviour'
Mr Hammond said the number of drink-driving deaths had fallen by more than 75% since 1979.
"But drink-driving still kills hundreds of people so we need to take tough action against the small minority of drivers who flagrantly ignore the limit," he said.
"Their behaviour is entrenched and after careful consideration we have concluded that improving enforcement is likely to have more impact on these dangerous people than lowering the limit.
"We are therefore taking forward a package of measures which will streamline enforcement, helping the police to target these most dangerous offenders and protect law-abiding road users."
Sir Peter, a leading academic and legal expert, had made a total of 51 recommendations in his report last year, including lowering the limit from 80mg of alcohol per 100ml of blood to 50mg.
Based on new research by the National Institute of Health and Clinical Excellence (NICE), he said that as many as 168 lives - about 7% of UK road deaths - could be saved by a reduced drink-drive limit in the first year.
This could rise to as many as 303 lives by the sixth year, he said.
'Robust rehabilitation'
On drug-driving the government has agreed to approve preliminary drug-testing equipment, initially for use in police stations. It said the Home Office was testing six drug-testing devices and hoped to be able to approve one by the end of June.
It has also said it will allow custody nurses to advise the police whether or not a suspected driver had a condition that may be due to a drug, to erase the need to call out police doctors.
On drink-driving it said it would remove the right for people whose breath test result was less than 40% over the limit to opt for a blood test.
It also said it would bring in a "more robust" drink-drive rehabilitation scheme, approve roadside breath-tests that could be used as evidence in court, and close a loophole used by high-risk offenders to delay their medical examinations.
Responding to the government's decision to reject that recommendation, the AA said it had "missed an opportunity" to lower the limit.
But the group welcomed the fact that roadside testing could now be used in court evidence, which would reduce the possibility of the effects of drinking wearing off before offenders got to a police station.
Two in three AA members who responded to an AA/Populus survey had said they supported a lowering of the legal limit.
AA president Edmund King said: "Although an opportunity to cut the limit has been missed, drink-drivers need to understand that new procedures will make them more likely to be caught."
He said the introduction of "drugalysers" and simpler procedures would send out a strong message that drug-drivers were more likely to be targeted and caught.
Mandate from motorists
RAC motoring strategist Adrian Tink said the refusal to cut the limit was "disappointing news" because the government had had a "clear mandate" from motorists to go ahead with it.
Both organisations said more police were needed on the roads to catch offenders in the first place.
Robert Gifford, executive director of the Parliamentary Advisory Council for Transport Safety, also called the decision "deeply disappointing".
Julie Townsend, campaigns director at road safety charity Brake, said it hoped the government would act quickly to bring in a specific offence on drug-driving, and roadside testing, which were both "desperately needed".
She added: "However, we must not forget that drink-driving remains one of the biggest killers on our roads. It's therefore bitterly disappointing that the government has chosen to ignore evidence showing that lowering our drink-drive limit and implementing random breath-testing would be highly effective."
The government added that its strategy was to "help the police to focus on the most dangerous people".
"We do not believe that widening the scope of the drink-drive offence by lowering the limit is consistent with this approach.
"It has various operational and practical difficulties and imposes social and economic costs which we do not consider, on the present evidence, to be matched by potential benefits," it said in a statement.