Call for ban on 'painful 'child restraints in custody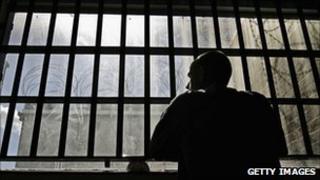 Deliberately using pain to control young people in custody should be banned, a report has said.
The call to end restraint practices described as painful, comes after 89 young people were surveyed for the Office of the Children's Commissioner.
One girl described restraints as "disgusting" while a boy said it had made him feel "helpless".
The children's commissioner for England said the views showed the use of restraint differed greatly.
Comments made by two of those interviewed were highlighted.
The first, a female at a secure training centre said: "I think restraining should only be used in a really difficult situation, instead of just when young girls refuse to go to their room or education, it's disgusting."
The second, a youth at a young offender institution said: "I said loosen it because I was in so much pain, and they said no, I'm going to use the force."
Dr Maggie Atkinson said: "The views expressed throughout clearly show how the use of restraint differs greatly between institutions, and where used and applied inappropriately can have a profound, lasting and negative impact on young people.
"If we want them [young offenders] to be constructive members of society, it is important that practices used to improve their behaviour do not result in a negative outcome for their mental health and emotional well-being"
The study was carried out by the charity User Voice, which is led by ex-offenders.
Their report says: "In order for international standards to be complied with, the use of sanctioned pain to control children must be abolished".
'Grim personal accounts'
It calls on the Youth Justice Board and Ministry of Justice to ban deliberately painful physical restraints immediately and pointed to standards recommended by the United Nations and European Union.
Dr Atkinson said she was "disheartened and concerned" by some of the "grim personal accounts" of some young people.
Mark Johnson, the founder of User Voice, said: "I recognise that members of staff in the secure estate can work with some of the country's most troubled children."
But he added: "Physical force should only ever be used as a measure of last resort and must be done in the safest possible way."
A Ministry of Justice spokesman said: "Restraint is only ever used by staff as a last resort when a young person's behaviour puts themselves or others at serious risk.
"The Independent Review of Restraint, published in December 2008, concluded that, in exceptional circumstances, pain-compliant techniques were necessary in the secure estate for children and young people, to manage serious incidents.
"The government has made good progress on implementing recommendations from the review.
"To date we have implemented two thirds of the 56 accepted recommendations and continue to work together with the National Offender Management Service and the Youth Justice Board to implement the remaining ones as quickly and fully as possible."