Japan earthquake: Britons given iodine tablets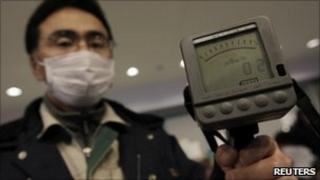 Britons in parts of Japan are being given iodine tablets as "a precaution" in case radiation levels increase from a quake-damaged nuclear power plant.
The Foreign Office said it was a "contingency measure" and people should only take the tablets if and when advised by the authorities.
Embassy staff were distributing tablets in Tokyo and Sendai on Saturday and will be in Niigata on Sunday.
The earthquake and tsunami is known to have killed more than 8,100 people.
However, police say 15,000 may have died in one prefecture alone - Miyagi. More than 12,200 are understood to be missing in those parts of Japan hit by the earthquake and tsunami.
Fears have been rising over levels of radiation leaking from the Fukushima Daiichi nuclear plant which was hit by the 9.0-magnitude earthquake on 11 March.
The earthquake and tsunami it triggered crippled the plant's cooling systems and some radiation has leaked.
The decision to distribute iodine tablets was revealed by the Foreign Office in its updated travel advice to British nationals who have decided to remain in Tokyo and areas north of the city.
Proof of British citizenship is required to collect the tablets with priority being given to children and pregnant or breastfeeding women.
Stable iodine tablets are used to stop the body absorbing radioactive iodine and are effective up to six hours after exposure to radiation.
Food contamination
The Foreign Office advice on what action to take if radiation increases in "any significant way" includes information on sheltering indoors and how to decontaminate after going outside.
With the Japanese government's exclusion zone of 30km (20 miles) around the plant, the statement added: "A significant increase in the radiation levels in Tokyo, well outside the exclusion zone, would only occur in a worst-case scenario."
Food products from the Fukushima prefecture have been banned from sale after radioactive contamination was found in milk and spinach.
Traces of radioactive iodine have also been found in tapwater in Tokyo and five other prefectures, officials said on Saturday.
The traces are within government safety limits, but usual tests show no iodine, the AP news agency reported.
Meanwhile, a final coach for British nationals and their dependents will depart Sendai for Tokyo on Sunday, departing at 1000 local time (0100 GMT).
So far five coaches have made the journey from Sendai to Tokyo, transporting 61 British nationals, 15 dependents and 31 people from other countries.
Sixty British nationals have flown from Japan to Hong Kong after the Foreign Office block-booked tickets on them and a fourth flight will take off on Sunday.
The British consular team in the tsunami-affected region has assisted at least 170 British nationals.
'Extremely challenging'
The official British rescue team, who had been in Japan since Monday, arrived home on Saturday.
The team of 59 search and rescue experts was made up of members from fire brigades across the UK and was put together by the Department for International Development. They were also joined by four medics and two sniffer dogs.
They found several bodies but no survivors.
Pete Stevenson, who led the team on the ground, said: "The work carried out by the team has been extremely challenging and arduous. As ever, they performed their tasks with the utmost professionalism and skill.
"Whilst no survivors were found, the assistance given by the UK team was greatly appreciated by the Japanese.
"Our thoughts are with the Japanese people and we wish them every success during the recovery and humanitarian response phase."
Some 17,000 Britons are believed to have been in Japan when the earthquake struck but there have not yet been any reports of British casualties. The number of British citizens remaining in the country is not known.
On Friday the National Pharmacy Association said demand for iodine in the UK had soared since the nuclear crisis in Japan.
It said more than 100 pharmacists have called to seek advice on dealing with customers wanting the drug.
The Health Protection Agency states there is no radiation risk in the UK.