Fuel crime rises as prices hit an all-time high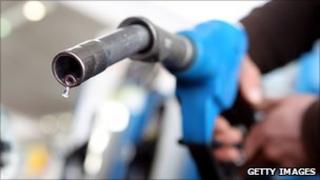 Fuel crime is becoming a multi-million pound business as petrol and diesel costs rise to more than £6 a gallon (£1.32 a litre), haulage companies say.
Vehicles in lay-bays and depots are increasingly being targeted by thieves who siphon the fuel to sell on.
But despite the financial strain, some lorry drivers do not report thefts because they feel police do not take it seriously enough.
Police deny this saying they are working hard to combat the problem.
"At one time we would have been concerned that if someone attacked the lorry they'd be looking to see what the cargo was," said Dennis Davenport, UK manager of haulage firm HMT.
"These days with a vehicle with 1000 litres of fuel you're talking about a pump value of £1,350. It's instantly useable and disposable.
"The fuel you carry is now more valuable than the cargo."
During a recent break-in at Heysham Docks, Lancashire, one of the company's lorries had its fuel tank emptied by thieves using relatively simple tools.
"They broke open the lock on the tank, siphoned the fuel into drums and carted it away. There were about five of them and it took over an hour to drain one tank.
"We think the siphoning device was battery powered and they can be purchased from army surplus stores for minimal cost."
The firm estimates similar thefts have cost the company more than £10,000 over the last 12 months alone.
It is a problem impacting on companies across the industry, with hauliers reporting thefts on a daily basis.
Chrys Rampley, security manager for the Road Haulage Association (RHA) said fuel was being taken from lorries parked up in lay-bys and depots despite companies investing in CCTV and security to protect the premises.
She said: "There are thieves out there who are determined, sitting and waiting outside secure depots for the right moment to siphon the fuel. A whole fleet of 10-15 vehicles can have their tanks emptied in one night - that is a lot of fuel."
The RHA conducted a survey of its 6,000 members on behalf of 5 live Investigates. Of the 150 who replied, almost two-thirds reported theft of fuel in the last year.
The RHA represents around a quarter of the UK's heavy goods vehicles. In some cases, companies have reported losing more than 3,000 litres of diesel in one raid.
'Not interested'
According to Ms Rampley the loss of a full tank of fuel can wipe out the profit margin on one job.
She says the situation is becoming so bad that the cost of fuel theft - along with other financial problems - forced one firm out of business.
But not all truckers who said they had suffered a fuel theft reported it to the police.
A quarter of those who responded to the survey said they did not. Many said it was a waste of time because they felt the police did not take it seriously enough.
One claimed the police had ignored two incidents and were "not interested in the slightest".
Another said the police "are not interested even when you have CCTV".
That is a claim denied by the Association of Chief Police Officers (Acpo) which says it is working hard with a number of agencies and industry bodies to raise awareness of the issue and look at how best to prevent it.
A spokesman said: "Following a rise in the number of fuel thefts, reported to Acpo's TruckPol police unit by colleagues, we have changed the way that we record the crime.
"Previously we only recorded thefts in excess of 1,000 litres. This changed this year and we now record all thefts, no matter how large or small.
"So far this year we have had 61 thefts reported to us and many of these refer to multiple vehicles being targeted in compounds. However, we do believe there are more crimes that go unreported.
"In an attempt to encourage reporting we have been working with policing colleagues and, working with the Road Haulage Association, have given out crime prevention advice to industry contacts."
Red diesel
Another way criminals are looking to make money on fuel is by removing the coloured dye from "red" diesel.
The red diesel which should only be used for boats, agricultural and construction machinery off-road is taxed at a lower rate than diesel for general use.
Criminal gangs set up plants to take the dye out of the red diesel and pass it off as diesel for general use.
According to the latest figures from Her Majesty's Revenue and Customs (HMRC) the cost to the public purse of this type of crime is about £800m a year.
In 2008-09 HMRC investigators closed down just six of these conversion plants. In 2009-10, that figure rose to 20 and is expected to be higher again this year.
There is also evidence that this kind of fraud is continuing to spread from its traditional base in Northern Ireland - where it was often associated with money laundering by paramilitary groups - to Britain.
Chancellor George Osborne is coming under pressure ahead of next Wednesday's budget to reduce the fuel duty escalator, which is due to add a further 5p a litre to the price of petrol and diesel from the start of next month.
But the ongoing political turmoil in Libya and the Middle East suggests that whatever action the government takes, the upward pressure on fuel prices is likely to continue for some time yet - taking fuel crime upwards with it.
You can hear the full report on 5 live Investigates on Sunday, 20 March at 2100 GMT on BBC Radio 5 live.
You can also listen again on the BBC iPlayer or by downloading the 5 live Investigates podcast.