Potters Bar train crash charge against Jarvis dropped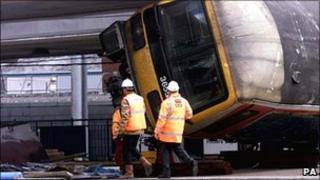 A health and safety charge against the rail maintenance company Jarvis over the 2002 Potters Bar train crash has been dropped.
Seven people were killed and 76 injured in the Hertfordshire crash when a northbound train derailed at high speed.
But the rail maintenance section of Jarvis is now in administration.
The Office of Rail Regulation (ORR) said continuing the prosecution would not be in the public interest.
The regulator said any trial would be lengthy and costly, and any conviction would lead to only a "small financial penalty".
'Battle and battle'
One of those killed in the crash was Austen Kark, 75, who was travelling with his wife, author Nina Bawden, now 86, who was badly injured.
Their daughter Perdita Kark said it was appalling the process had taken so long.
"We have had to battle and battle to get this far. Jarvis effectively no longer exists," she said.
"What's important now is that Network Rail ensures the railways are as safe as they can be.
"Since Potters Bar there have been some areas on which safety has improved but there is more to be done."
Overall responsibility for rail maintenance at the time of the accident lay with Railtrack, which was replaced by Network Rail (NR) later on that year.
When charging Jarvis last year, the ORR also brought a similar charge against NR, which pleaded guilty to the charge last month.
The next hearing of the proceedings against NR will take place at St Albans Crown Court on 30 March, when a provisional date for sentencing should be set.