Foster carers' charter to 'end myths and red tape'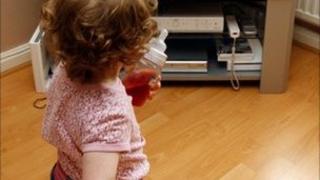 A new charter for fostering is to be published which ministers hope will put an end to "myths and red tape" that have undermined some carers.
It will set out clearer principles on how foster carers should be treated and valued by local authorities, they said.
Children's minister Tim Loughton said it was a "nonsense" some carers had to get permission for everyday activities such as haircuts or sleepovers.
He said it backed up new fostering regulations published last week.
Mr Loughton said he often heard from foster carers that they had to seek special permission before their foster child could have a haircut or have a sleepover with friends.
"[These are] things that we would take for granted with our own children. This is a nonsense.
"This charter makes it clear that these foster parents should be able to play the role of any parent looking after his or her own children, and they should have the back up of the local authority to be able to do that."
The Department for Education said the charter was designed to make it clear that a foster child should be treated as part of the family, and their views taken seriously.
It was also aimed at tackling the perception that foster carers cannot let their foster children do everyday activities, such as sleepovers and holidays, "without facing excessive restrictions and barriers".
The charter would also set out how foster carers should be supported in their role, by their fostering service and local authority, they added.
It would also help local authorities recruit and retain foster carers, and serve as a guide for what foster carers can expect.
The government said it came after new slimmed down fostering regulations and guidance clarified for local authorities what their statutory duties were.
The government said the guidance would also "reduce unnecessary burdens placed on them".
The number of children coming into care has risen in recent years and there is a shortage of suitable foster families.
Mr Loughton added: "Foster carers are the unsung heroes of our care system. They do a fantastic, selfless job helping often vulnerable children build stable relationships that can endure into adulthood.
"I hope every local authority and fostering agency will sign up to the charter."
David Holmes, chief Executive of the British Association for Adoption and Fostering, said it welcomed the foster carers' charter as a "helpful addition to existing legislation and guidance".