Bahrain unrest: UK evacuation flight leaves empty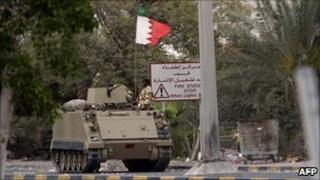 A plane chartered to evacuate British nationals from Bahrain has departed empty despite UK government warnings about ongoing violence in the country.
The Foreign Office said that "due to sufficient availability on commercial routes" there had been no passengers on board when the flight left for Dubai at about 1400 local time (1100 GMT).
A second chartered flight is currently due to depart for London on Friday.
Several thousands Britons were believed to have been living in the Gulf state.
The Foreign Office (FCO) is urging any without a pressing need to stay to leave as soon as possible, ideally by commercial means.
A spokeswoman said a number had already chosen to do so, but could not say exactly how many.
Referring to the lack of take-up of the FCO's flight, she added: "We see that as a good thing because it shows people are managing to use other means to get out."
The FCO warning follows days of violent clashes in the capital Manama between anti-government protesters and security forces.
At least six people have reportedly been killed and officials have imposed a curfew after the country's Sunni rulers called in Saudi troops earlier this week to try to keep order.
Foreign Secretary William Hague has urged all parties to enter into dialogue and to refrain from violence.
Any Britons wishing to leave but unable to get commercial tickets should register their interest in Friday's flight by calling +44 20 7008 5900. Tickets will cost £310.
'Downward spiral'
The BBC has spoken to some Britons in Bahrain who say they are happy to stay.
Liam Walker, a 22-year-old living just outside Manama, said: "I am currently not looking to leave as my job, my house and positions are all in Bahrain.
"However, if things continue in a downward spiral I may be forced to return home.
"It's been a very strange place for just over the last month. People were generally going about their business and just avoiding central Manama, but over the last few days people have been going out even less.
"I know a lot of people returning home, including my brother."
Another Briton, Mike, originally from Wells, in Somerset, said he had been "holed up" in his apartment for a few days, but was now heading home on a commercial flight.
"I left for the airport at 12 noon today and had a slow, but safe journey through several checkpoints, but no trouble.
"It's actually been relatively quiet where I live, although you can hear noise off in the distance.
"I've lived here for the last five years with my family. They were on holiday in the UK so I told them not to come back."