Japan crisis: UK rescue team to withdraw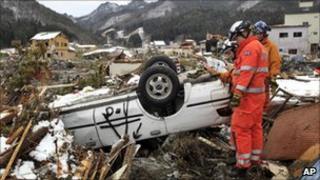 UK rescuers are withdrawing from Japan after extensive searches of rubble following last week's earthquake and tsunami did not find any survivors.
The International Search and Rescue (ISAR) team has completed its mission in the northern town of Kamaishi.
The UK government said snow and falling temperatures mean the chance of finding anybody alive was now "extremely low".
The Foreign Office is chartering planes from Tokyo to Hong Kong to help Britons who want to leave Japan.
The UK ISAR team, which arrived in Japan on Sunday, agreed not to extend its operations after discussions with the Japanese disaster authorities and their US counterparts.
Earlier this week the team found several bodies during searches in the north-eastern town of Ofunato, but there were no survivors.
The team - 59 search and rescue experts, four medics and two sniffer dogs - was made up of members from fire brigades across the UK and was put together by the Department for International Development.
'Total devastation'
Secretary of State Andrew Mitchell said: "We are all extremely proud of the work of the UK Fire and Rescue team.
"Sadly, the chance of them finding further survivors is now extremely low and so their specialist skills are no longer necessary in Japan."
One rescuer, Alan Downes, said: "We've seen total devastation in the areas affected. It's so significant, I struggle to comprehend how any community can move on from it.
"But people here are getting on and dealing with what's put in front of them."
Meanwhile, Britons who want to leave Japan have been given the option of joining flights chartered by the UK government.
The first, a Cathay Pacific plane to Hong Kong with 200 seats block-booked for British nationals, will leave on Friday evening. More are planned over the weekend.
There will be no charge for those "directly affected" by the tsunami, but a charge of £600 will otherwise apply.
By 1600 GMT on Thursday, some 43 British nationals had expressed an interest in this option. The Foreign Office said those who wished to leave and could not secure commercial tickets should call +44 20 7008 6900.
People are being advised to use commercial flights if possible, and the Foreign Office said it still advised against all non-essential travel to Tokyo and north-eastern Japan.
Water shortages
The British embassy has also organised a coach to take Britons from Sendai to Tokyo.
The prime minister's spokesman said Britons were advised to stay outside an 80km (50 mile) exclusion zone around the stricken Fukushima nuclear plant, which lies 140 miles north of Tokyo.
The UK's Scientific Advisory Group for Emergencies (Sage) is continuing to meet and monitor the situation in the troubled reactor.
The spokesman said Sage had examined worst-case scenarios and risks to human health and concluded the risk could be managed if people stayed indoors.
Foreign Secretary William Hague told the House of Commons there remained "severe concerns" about some British nationals who officials had been unable to locate.
"Our consular teams in London and Japan have been working round the clock," he said. "We're following up all the leads from the helpline we have set up."
Mr Hague said more than 50 extra staff had been sent to the affected regions, and they were visiting reception centres and hospitals.
About 17,000 British nationals were believed to have been in Japan last Friday but there have been no reports yet of fatalities.
Japan's east coast was devastated by the tsunami triggered by last Friday's earthquake.
Those areas not wiped out are suffering power cuts and water shortages.