UK's FCO advises Britons to 'leave Bahrain today'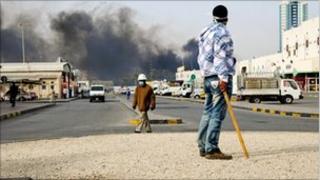 The UK Foreign Office is advising all Britons to leave Bahrain as soon as possible unless they have a pressing need to stay, as violence intensifies.
Security forces with tanks have moved in on anti-government protesters camped in the capital Manama and at least six people have reportedly been killed.
The UK government has organised two charter flights from Bahrain to supplement commercial flights.
It estimates there are several thousand UK nationals still in the Gulf state.
Foreign Secretary William Hague has spoken to his Bahraini counterpart, Shaikh Khalid Bin Ahmed Bin Mohamed Al Khalifa, to express "serious concern" at the situation.
He told the Commons on Thursday: "I call on all parties to engage in an open and constructive national dialogue, so that it is translated as soon as possible into tangible actions that respond to the legitimate aspirations of the Bahraini people."
At least three civilians were reportedly killed after police fired on mainly Shia protesters. Officials said three police also died.
Troops have reportedly taken over a hospital treating the wounded and officials have imposed a curfew and banned protests.
It came after the country's Sunni rulers called in Saudi troops to keep order.
'Holed up'
The UK Foreign Office said a chartered flight carrying Britons had departed Bahrain for Dubai at 1400 local time (1100 GMT) on Thursday. Those on board were charged £260 each.
A further flight from Bahrain to London is scheduled to depart at midday local time (0900 GMT) on Friday and will cost £310.
An FCO spokesman said the first option for Britons wanting to leave should remain commercial services, which were operating normally.
But anyone unable to get commercial tickets should register their interest for the FCO flights by calling +44 20 7008 5900.
One Briton, Mike, who is originally from Wells, in Somerset, said he had been "holed up" in an apartment in the Manama suburb of Seef for several days, and was now waiting for a commercial flight to London.
"It's actually been relatively quiet where I live, although you can hear noise off in the distance," he told the BBC.
"I've lived here for the last five years with my family. They were on holiday in the UK so I told them not to come back.
"My company has another operation in Kuwait so I have no intention of going back to Bahrain in the near future."
But another British expatriate Lee, who lives in the town of Saar with his wife and three children, said he had no plans to leave.
"We're quite happy," he told the BBC. "We'll look at the situation as it develops, but we don't feel threatened at all. The protests are not aimed at the expats.
"Bahrain is a very peaceful country that's just going through a difficult stage.
"We are quite happy with the way the current situation. You can do normal things. The shops are still open."
'Exercise caution'
A British embassy team has been assessing routes to the airport and issued advice on its website about which roads were safe to use, albeit "with caution".
It said travel on the main routes of the island, during daylight hours, was "orderly if slow in some places, because of police checkpoints".
The advice added: "You should exercise caution in particular on any routes you use to get to these main routes and consider carefully the situation in your local vicinity before you leave."
Bahrain - which has a population of 800,000 and is home to the US Navy's Fifth Fleet - is the first Gulf country to be thrown into turmoil by the wave of unrest sweeping the Arab world. Protests there began last month.
Prime Minister David Cameron has spoken by phone to the King of Bahrain, Hamad bin Isa al-Khalifa, and urged him to end the violent suppression of street protests.