Killer planted clues in misogynistic artworks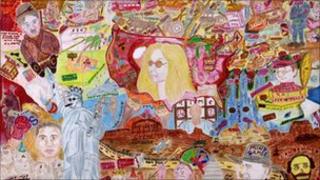 A man has been given a whole life tariff after being convicted of murdering and dismembering two women - one in England and one in the Netherlands. John Sweeney, who may have killed five other people, planted clues to his crimes in misogynistic artworks.
When Sweeney was jailed for life in March 2002 for the attempted murder of his girlfriend, detectives knew there was unfinished business.
He left behind more than 200 lurid drawings, paintings and poems that gave clues to two unsolved murders.
Delia Balmer survived the 1994 attack for which Sweeney was originally jailed, but she lost a finger and suffered scars to her chest and head, as well as psychological damage.
But two other women did not survive their relationships with Sweeney.
In 1990 Melissa Halstead, an American model turned photographer, disappeared in Amsterdam and 10 years later Paula Fields went missing from the London streets where she worked as a prostitute.
Both women had had relationships with Sweeney, but in 2002 there was not enough evidence to charge him with their murders.
Detective Chief Inspector Norman McKinlay retired the following year, but one of his last decisions in the job was to recommend a review of the Sweeney case.
Shortly before retiring, Mr McKinlay visited Sweeney, who was then in Whitemoor Prison in Cambridgeshire, to ask him about Ms Halstead and Ms Fields.
Mr McKinlay told BBC News: "He said nothing at all. He just looked at me, staring and smirking. His eyes always got me. He had piercing eyes."
A woman's torso - with head and hands missing - had been fished out of a canal near Rotterdam in 1990, but the remains were not identified as those of Ms Halstead until 2008, after her family in Dayton, Ohio, provided matching DNA.
Dutch film-maker Jaap van Hoewijk, who is making a documentary about the case, said: "The sad thing about it is that because everyone was so entangled in their own lives, nobody reported her missing."
Ms Fields's remains, similarly dismembered and with the feet also missing, were found in the Regent's Canal in Camden, north London, in February 2001.
When Sweeney, a Liverpool-born carpenter, was arrested in March 2001, police found the gory and misogynistic artwork in his flat.
The prosecutor at his murder trial, Brian Altman QC, said: "Police discovered amongst his possessions often lurid and demonic sketches, paintings as well as pages of verse which reveal an obsessive and virulent hatred of women and a preoccupation with dismemberment.
"It is a picture of a hateful, controlling and possessive man... prone to outbursts of rage and murderous feelings."
One painting, entitled One Man Band, contained a drawing of a woman, believed to be Ms Halstead.
Correction fluid had been painted over a small area.
When forensic scientists shone ultraviolet light on it they revealed a gravestone with the inscription "Melissa Halstead, born 7 November 1956. Died".
Another sketch, The Scalphunter, showed women tied up and another showed Sweeney holding up blades dripping with blood.
Mr Altman said they were in many ways "autobiographical and confessional".
One of the poems read: "On the run from the law, with my back to the wall. Watching the windows and the door. I'm not afraid to do or die. Maybe when this life is over I will get some sleep."
In another passage he wrote: "I'm just a manimal, twisted and confused, very dysfunctional."
Cross-examined by Mr Altman, Sweeney said they were just "meaningless nonsense" created when he was stoned on drugs.
The police refused to release the drawings and paintings to the media in 2002 because Sweeney said he owned the copyright. They returned the portfolio to his mother, who lived in Skelmersdale, Lancashire.
It took until 2008, when Ms Halstead's remains were finally identified, for the case to be reopened, thanks partly to the European Union, which helped fund a fresh investigation, co-ordinated through its Eurojust scheme.
After attacking Ms Balmer, Sweeney had gone on the run for six years and is thought to have travelled and worked in Europe.
But he was back in London in 2000 living under an assumed name, and struck up a relationship with Ms Fields, who was also from Liverpool. She was addicted to crack cocaine and her children had just been taken into care.
In December 2000 Ms Fields disappeared and two months later her remains were found in several holdalls.
A few weeks later Sweeney was arrested while working on a building site 100 yards from the Old Bailey.
'Went for gun'
"He was actually making for his carpentry box, and inside he had a revolver. There was a struggle and officers overpowered him," said Mr McKinlay.
Police also found two loaded Luger pistols and a sawn-off shotgun at the flat where he had been living in north London.
Mr McKinlay said Sweeney "would not have been taken alive if he had known we were on to him".
Ten years later, when he went on trial at the Old Bailey, the court was told of a dire prediction made by Ms Halstead.
Her sister, Chance O'Hara, giving evidence by video link from her home in California, said: "She said that if she ever went missing then John Sweeney would have killed her. She said he had threatened to kill her and said he would make sure nobody ever found the body."
The Halstead family were not in court, but Paula Fields' sisters and nieces listened as Sweeney told the jury lie after lie.
He claimed Paula could have been killed by the "Camden Ripper", Anthony Hardy - who was jailed for life in 2003 for the murder of three sex workers - while Melissa could have fallen victim to Frank Gust, a German who killed four women in the 1990s.
But the jury saw through his lies and Ms Fields's family and Ms Halstead's elderly mother, Frances, who now lives in Texas, finally have justice.
Following his conviction detectives appealed for information about five other people they believe Sweeney could have killed - three women in the UK and two German men in Amsterdam. However, no bodies have been found.