How UK charities are helping quake-hit Japan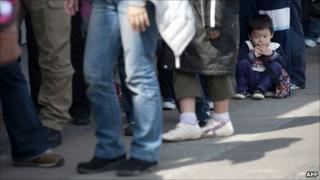 Japan's massive earthquake and the tsunami that followed have left thousands of families homeless, children without parents and food and fuel shortages.
In response, 91 countries have offered aid, from blankets and food to search dogs and military transport.
But the Japanese government is among the best prepared in the world for disasters and has so far only made specific requests for help, such as calling for search and rescue teams.
There has been no request yet for humanitarian assistance from the international community.
This has put UK charities and Britons wanting to help in an unusual position - until Japan asks for help, the UK is limited in what it can do.
Several charities, including Save the Children UK, British Red Cross and World Vision UK, are asking for donations.
However, the Disasters Emergency Committee (DEC) - usually the first to launch a major fundraising appeal after a disaster - is not planning one for Japan.
The umbrella body that represents 13 of the largest UK aid agencies says the Japanese government is very much in charge and help is being carefully co-ordinated.
"The danger is almost 'too many cooks spoil the broth'," said a DEC spokesman.
He said the charities' expertise is in responding to disasters in poorer developing countries where infrastructure can be weak, government agencies often have limited capacity and many people are already vulnerable from chronic poverty.
The kind of help needed in developed countries is quite different, he says.
The DEC launched an appeal immediately after the 2010 earthquake in Haiti - the poorest nation in the Americas.
By contrast, Japan has the world's third-largest economy - but many people who see TV footage of the devastation day after day still want to help in any way they can.
There has been much talk on social networking sites of ways to help the Japanese people. High-profile artists such as Lady Gaga are reported to be setting up fundraisers - she says she has designed a "Japan prayer bracelet" - but it is unclear which charities will receive the money raised.
The DEC has come in for some criticism for not setting up an appeal, but has tried to explain its position through Twitter and Facebook.
"People's desire to help is overwhelming and understandable," said the DEC spokesman. "Once we talk them through it, they are quite supportive."
Of those charities that have made appeals, Save the Children UK says it has raised £60,000 in three days. Its target is £1m.
A team from Save the Children is already in Sendai, one of the worst affected areas, to set up play areas.
Stephen McDonald, from the charity, told the BBC that Japan was a country that liked to be self-sufficient, but these play areas would be safe havens for the most vulnerable children as they tried to recover from the trauma of the disaster.
The charity performed a similar role during the 2010 earthquake in Haiti, and the floods in Pakistan.
The British Red Cross is also appealing for donations, which will most likely be sent to support the Japanese Red Cross, giving medical and psychological care to survivors.
Currently, it has 735 people there making up 85 medical teams, including doctors and nurses, as well as volunteers to distribute hot meals and blankets, clear debris and provide medical transport.
A spokesman for the British Red Cross said it had not sent any supplies or teams to the country but would, if asked.
"We are assessing the situation and waiting to hear from partners," he said. "Japan are pretty much in control."
The charity also warned that hoax e-mails claiming to be raising money for the Japan Tsunami Appeal were being circulated.
Blankets and tents
Aid agency World Vision UK has raised £96,000 from donations. The charity has a team already on the ground in Japan distributing bottled water, blankets and setting up child-friendly spaces. It said no UK team was planning to go out to Japan.
Islamic Relief has also launched an emergency appeal and, according to its website, is considering the most suitable intervention. It has several offices close by, including in China, Indonesia and Malaysia.
Christian Aid is directing donations to its sister agency, the Church World Service, which works with Japanese non-governmental organisations.
And Oxfam says its donations will go to Oxfam Japan to help fund a service for breastfeeding mothers and a language centre for non-Japanese speakers affected by the disaster.
One smaller charity - Cornwall-based Shelterbox - has already sent 220 tents and survival equipment to Tokyo.
There are 5,000 more packed ready to go but fuel shortages may well make it difficult to get tents to some of the worst-affected areas.