New UK rescue team flies to earthquake-hit Japan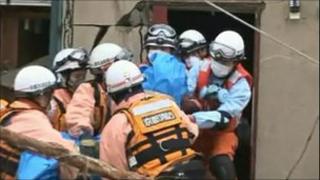 A second UK search and rescue team has flown to Japan to help the aid effort after the huge earthquake and tsunami.
The first British team spent Tuesday clearing a large area in the city of Ofunato but no survivors were found.
The Foreign Office says it has "severe concerns" about a number of UK citizens but has not given any further details.
Those suspected of being in the high-risk areas are being divided into three categories - "high probability", "possibly there", and "might be".
Three blasts at the Fukushima Daiichi nuclear plant, north-east of Tokyo, led to radiation levels which can affect human health. Japanese officials say the levels have now fallen but residents within 30km (18 miles) are being told to evacuate or stay indoors.
The Foreign Office (FCO) has said there is no need for UK nationals to evacuate areas outside the current exclusion zone but it was keeping its advice under constant review.
Matthew, a British expatriate in Tokyo, says some companies are deciding whether to move the families of employees out of Tokyo or out of the country.
"Other Brits are waiting to see if the FCO upgrades its advice to British nationals in Tokyo. Others are not waiting for official advice or for their companies to act and are simply putting families on the next flight out," he said.
"People are worried that some carriers have cancelled Tokyo flights due to radiation fears and that others may follow suit sooner or later making it difficult to leave even if the FCO does advise leaving."
Bodies recovered
The latest official death toll from the quake and tsunami stands at nearly 3,400 - but thousands of people are missing and it is feared at least 10,000 may have been killed.
Hundreds of thousands in the affected areas have been made homeless, while millions have been left without food, water and power.
There have been no confirmed British casualties and UK nationals are being asked to confirm their safety by contacting the FCO on +44 (0)20 7008 0000. That is also the helpline number for people concerned about friends and relatives in Japan.
The FCO is advising against all non-essential travel to Tokyo and the north-east of Japan. Most of the 17,000 Britons living in Japan are in Tokyo or Osaka.
The British ambassador and a team of consular staff are in Sendai, one of the cities closest to the epicentre of the earthquake.
They have been assessing the level of damage and gathering information about British nationals. Additional specialist UK consular teams have been sent to the country.
A 63-strong UK International Search and Rescue (Isar) team deployed by the Department for International Development is based in a school in Sumita, 20km (12 miles) outside Ofunato, one of the many coastal communities in north-east Japan devastated by the tsunami.
Comprising 59 search and rescue experts, four medics and two sniffer dogs, they are hunting for victims still alive who may be trapped in rubble and debris.
On Tuesday, the team was deployed, along with US colleagues, to the centre of the disaster zone in Ofunato where they cleared a large industrial and residential area. Although bodies were recovered, no survivors have been found so far. The team will be tasked overnight with new operations.
The city has been divided up into search areas and it is estimated it will take two days for the team to complete its search before being sent to another area.
'Dire need'
Twelve volunteers from International Rescue Corps arrived in Tokyo on Monday night, from where they were to be deployed by the authorities.
The team, which is funded by donations, was joined in Tokyo by two colleagues from New Zealand.
Although the team specialises in urban search and rescue - such as looking for survivors in collapsed buildings - it was thought more likely it would be put to work on the humanitarian effort to help survivors, said an IRC spokesman.
International Development Secretary Andrew Mitchell said: "We can all be proud of the UK's search and rescue experts, who are doing a great job under tough conditions.
"They are working alongside Japanese colleagues to give much-needed help and support to that country in its time of dire need."
The nuclear emergency in Japan has sparked wider debate about the use of nuclear power, with the German and Swiss governments suspending decisions on their nuclear programmes.
The government has asked the UK's Chief Nuclear Inspector, Dr Mike Weightman, to report on the implications for British facilities.
The European Commission is holding a meeting of ministers and experts on Tuesday to discuss the implications.
European stock markets fell sharply on Tuesday amid fears the earthquake may disrupt supply chains for global manufacturers.
Japanese car makers Nissan and Honda said their UK operations in Sunderland and Swindon respectively were unaffected by the disaster.
The Disasters Emergency Committee, an umbrella body that represents 13 of the largest UK aid agencies, said it was not planning to launch a fundraising appeal.
However on Sunday Save the Children launched a £1m appeal and have raised £60,000 so far.
A team from Save the Children are already in Sendai to set up play areas - safe havens for the most vulnerable children as they try to recover from the trauma of the disaster.
The British Red Cross is also appealing for donations, which will most likely be sent to support the Japanese Red Cross, giving medical and psychological care to survivors.