Prince of Wales and Duchess of Cornwall to visit Morocco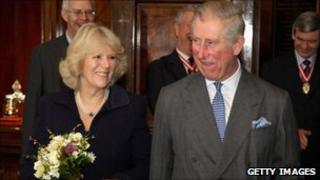 The Prince of Wales and the Duchess of Cornwall are to visit Morocco, Clarence House has announced.
They will also visit Portugal and Spain in a ten-day tour later this month.
The main themes of the tour will be trade and investment promotion, as well as climate change and the construction of low carbon economies.
With protests still ongoing in much of the Arab world, Clarence House has said security arrangements for the royal couple would be monitored "closely".
The trip is due to begin on March 28th, and will be the first they have made to any of the countries as a couple.
The Prince of Wales has made numerous official journeys to all three countries in the past.
The itinerary is due to include the Moroccan capital Rabat where the couple will be the guest of King Mohammed VI.
Clarence House stressed that the visit was being undertaken at the request of the British government.
Morocco is seen as one of the countries least likely to be hit by the unrest sweeping the Arab world because of an approach to dissent considered tolerant by regional standards.
Riot police
Morocco's king has recently announced a number of constitutional reforms.
However a demonstration in Casablanca was broken up by riot police with truncheons at the weekend.
Activists, who want more sweeping changes than the ones already announced, claimed the rally had been peaceful until the police intervened.
Clarence House said it would not comment on security arrangements for the royal couple on the forthcoming tour.
But it said the situation would continue to be "monitored closely" as the date for the trip approached.