Japan earthquake: Fears grow over UK casualties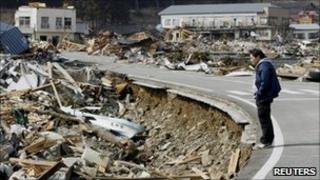 An increasing number of Britons are raising concerns about friends and relatives who may have been caught up in the earthquake and tsunami in Japan.
More than 4,000 people have so far contacted a Foreign Office helpline for those worried about relatives in Japan.
Foreign Secretary William Hague said they were trying to establish how many UK nationals were unaccounted for and urged people to confirm they were safe.
Meanwhile, a UK rescue team has arrived in Ofunato on the east coast.
Ofunato, about 100 miles north of Sendai, is one of the many coastal communities laid waste by the power of Friday's tsunami, which was triggered by a massive earthquake off Japan's north-east coast.
The UK International Search and Rescue (Isar) team said pictures of Ofunato indicated there were many large buildings damaged but still standing in which there may be survivors.
A separate team of 12 from the International Rescue Corps, based in Grangemouth, Stirlingshire, has left to help with the effort in Japan.
So far there have not been any confirmed UK deaths, but on Sunday the number of people contacting the Foreign Office's emergency line, to express concern about British friends and relatives in Japan, rose from 3,200 at 0800 GMT to 4,000 by the evening.
Prime Minister David Cameron is to update MPs on the situation in Japan at around 1530 GMT, Downing Street says.
The British ambassador to Japan, David Warren, confirmed there were "some cases of British nationals unaccounted for".
Mr Warren, who has travelled to Sendai, said he talked to the local authorities to try and get details of British nationals living in the area "who may have been caught up in the terrible events".
He added: "It is a very slow process because thousands and thousands of people are missing. The Japanese authorities are trying to account for whole communities that have been devastated.
"It will be some time before there is some clarity on the whereabouts of some people unaccounted for."
One Briton previously reported as missing has made contact with his family and is safe and well.
Brian Hickebottom, 34, originally from Birmingham, survived by taking refuge in the school where he works, along with his wife Sanae, 37, and baby daughter Erin, aged five months.
Mr Hague said there were currently no confirmed reports of British casualties, "but clearly at any time there are a lot of British people travelling around in Japan", he said.
"That's why our ambassador and British staff are on the ground. They have been to Sendai, one of the worst affected areas. We have reinforced the embassy staff. We have got teams at the two main airports in Tokyo, helping people through.
"So we are trying to establish how many British people are unaccounted for and that is the work going on at the moment.
"Of course, it often turns out that people have been travelling and not got in touch, so we do want people to get in touch with the Foreign Office or our embassy in Tokyo and say if they are safe, so we can establish the numbers more accurately."
Sniffer dogs
The vast majority of the 17,000 Britons living in Japan are in Tokyo or Osaka, but phone lines in some areas outside the major cities are still cut off.
An additional 45 British consular staff are now on duty in Japan. Embassy response teams are also at Tokyo's Haneda and Narita airports to help British nationals and to liaise with airlines.
The Foreign Office said the British Embassy in Tokyo and British Consulate in Osaka had been working "around the clock".
Rosie Caffyn, of Surrey, complained of receiving little help or information from British authorities for three days as she tried to alert them to the location of her daughter at a refuge centre in Sendai.
Alice Caffyn, 21, is among a group of seven international students who were travelling in Sendai when the earthquake struck.
"They are youngish students - they need help," Mrs Caffyn said. "Alice called us, but still the British embassy had no idea where they were even though we tried to tell them.
"Unless you are missing and presumed dead, they are not interested."
Britain has also offered to help the Japanese government deal with the quake-damaged Fukushima nuclear plant, which has experienced two explosions.
However, the British ambassador told the BBC the authorities had not yet indicated that they wanted British assistance
The Japanese and UK governments are in close contact about the action being taken to clear up after the disaster, he said.
Technicians are battling to stabilise a third reactor at the plant, following the latest explosion to rock the facility.
Operators said they could not rule out a fuel rod meltdown after a cooling system broke and are injecting more water into reactor 2 after its fuel rods became almost fully exposed.
Meanwhile, the 63-strong UK rescue team, which arrived in Japan on Sunday, is starting work to assist the rescue effort alongside US experts.
The British team of 59 search and rescue experts, four medics and two sniffer dogs will join the search for live victims that may be trapped in rubble and debris in Ofunato.
So far, 73 bodies have been recovered from the town, 7,545 people have been evacuated and at least 58 people missing.
The team is one of only 17 in the world classified as a "heavy team", meaning it travels with the specialist tools needed to penetrate reinforced concrete and metal to reach trapped victims.
Team member Peter Crook told the BBC he expected the operation to start with a large-scale dog search. The town would be "sectorised" into small areas and allocated to teams.
Because of the tsunami, he said, there was little chance of survival in the "main element" of the destruction, so they would be looking on the edges of areas and upper levels of buildings where people may have survived.
"We'll try and move as fast as we can to areas where there's potential live rescues to make, and keep moving on until those hopes disappear," he said.
The team includes specialists from fire brigades across the UK, including Cheshire, Greater Manchester, Hampshire, Kent, Lancashire, Lincolnshire, West Sussex, West Midlands, and Mid and West Wales Fire and Rescue Services.
Shares in UK insurers slumped after estimates that the claims bill for the earthquake could be as much as £22bn.
Japanese broadcaster NHK says the total number of confirmed deaths caused by the disaster now stands at 1,596, but police warn the death toll in the Miyagi region alone could top 10,000.
Humanitarian appeals have been launched by UK charities Save the Children and the British Red Cross, and aid agency World Vision.
The Foreign Office has updated its travel advice for Britons in Japan and is advising against all non-essential travel to Tokyo and the north-east of the country.
British nationals and friends and relatives of those in Japan should contact the Foreign Office in the UK on +44 (0) 20 7008 0000.