Heads 'training to let staff go'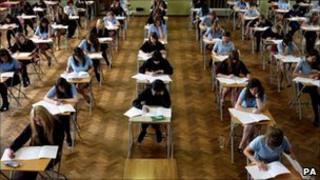 Head teachers in England are planning to make large-scale redundancies, the Association of School and College Leaders has warned.
A dozen schools a day are calling the association's helpline to ask for advice on redundancies, as schools face a squeeze on their budgets.
It claims the new English Baccalaureate means many schools are scaling down on staff who teach vocational courses.
The ASCL is offering training to head teachers faced with shedding staff.
A seminar - Managing staffing reductions - at the ASCL's annual conference in Manchester at the weekend was attended by some 60 delegates.
Richard Bird, ASCL's legal specialist, said: "The last time we've had to do this sort of thing was when Kenneth Clarke was Chancellor of the Exchequer in the 1990s.
"Most heads have never had to face a redundancy situation. 'Do you know where your redundancy policy is?' we're asking them."
Mr Bird warned that many schools had a redundancy policy that related only to teachers, not to support staff.
He said many heads were not prepared for the "rougher negotiations" of some of the non-teaching unions.
Also, some schools were not clear whether they were covered by the local authority's redundancy policy or needed their own.
ASCL general secretary Brian Lightman said: "It's an unprecedented time for them [head teachers] and we've seen a massive demand for advice on how to deal with it.
"And of course our members are very vulnerable too because they're more expensive, if they're deputy or assistant heads and so on."
English Bac
The association said the issue had become even more pressing with the introduction of the English Bac, where schools in England are ranked on how many pupils get a GCSE grade C or above in English, maths, two sciences, a language and either history or geography.
Mr Bird said the "dreaded" English Bac meant some teachers were in a precarious position.
"If you have plunged deeply into the sorts of vocational courses that Mr Gove [the Education Secretary] says you shouldn't be teaching, you're going to have to restructure.
"If there's a shift in the curriculum, it will quite likely cause restructuring and inevitably cause redundancies."
ASCL is campaigning for a "better Bac" and wants a debate on which subjects should be included in it.
The association issued badges to eligible delegates at its annual conference in Manchester at the weekend, saying "I failed the English Bac", to highlight its concerns about what is sees as the narrow and prescriptive nature of the government's new benchmark.
The Department for Education defended the English Baccalaureate. In a statement it said ministers had been clear that "special recognition should be given to those students who secure good passes in a balanced range of rigorous qualifications".
It added: "This is because these are the courses which best equip young people to succeed."