Japan crisis: Eyewitness stories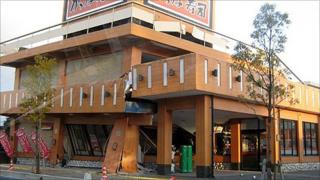 The Japanese prime minister Naoto Kan says his country is facing its toughest crisis since the Second World War. Here, people across Japan share their experiences.
Ryan MacDonald, Kitakata, Fukushima Prefecture
I am an English teacher based in Koriyama city, Fukushima Prefecture, which is quite close to the damaged nuclear power station.
Myself and three friends fled from the city on Saturday night at one in the morning, to get further away from the reactor. We are now staying with a friend of a friend in Kitakata city.
The official line is that there is no danger of radiation exposure, but we have been hearing conflicting things from unofficial sources and we didn't want to take the risk.
Daily life was also becoming difficult in Koriyama - we had no water or gas, there was a threatened power strike, and the shops were running out of food.
Here in Kitakata there is very little damage from the earthquake, but there are long queues in shops and many things, including petrol, are being rationed. Still, we are very happy to have hot food and showers again!
There was more damage in Koriyama - a sushi restaurant collapsed, my apartment shook, and the road split.
Robert Murphy in Fukushima City
We are some 50 miles west of the nuclear power plant, the other side of a tricky mountain range.
We've not been told to evacuate here. I don't think it would be easy as transport has been badly affected by the disaster.
We don't have a car and the roads would be congested. And anyway, where would we go? To the west there is a mountain range, to the north Sendai, to the east the power station and to the south Tokyo - which has its own problems.
The mood in the town is very good at the moment - calm and even humorous.
People are resilient here, and used to earthquakes. But I have to say that this one, and the tsunami and nuclear incidents, have startled people far more than usual.
Power had gone out in parts of the town, but recently sprang back to life which makes people feel better. Phone lines have also started working recently.
Most shops are closed and shuttered. We have some food, and you can find some convenience stores open if you hunt around. People are getting by, relatives and friends seem to be calling on family and friends thanks to their cars, or on bikes, or on foot.
We have power and gas still, so we can be warm. But the water is off. We don't shower, or flush the toilet, or wash up everything.
I started a trend in getting buckets of water from the river just metres away - to flush the toilet, of course. I think this had made folks feel better.
If, and when, water supplies are fully restored and people can shower and bathe, spirits will really lift, especially for those of us who have not lost friends and relatives to the quake, and especially to the tsunami.
Dennis Mensa, Sendai City
"I only found out about the fatalities on the coast and the situation with the nuclear plant last night - now I'm really worried."
Our situation has improved since yesterday. The electricity supply came back on at eleven o'clock yesterday evening, so now we are able to watch the TV news.
The house where I'm staying wasn't damaged by the earthquake, but the house opposite has lost its roof. There are still small aftershocks happening - the last one was around 10:00am GMT.
When it happens the walls of the house vibrate.
There are many more shops open today but they are running out of some staple foods, like rice. No restaurants are open, and you have to queue to buy anything.
I really want to leave Sendai - I was supposed to go to Tokyo today - but there is no public transport out of the city. I am now stuck here indefinitely.
Alex Miyaji, Sano
I've just arrived back home in Sano, which was about 90km north of Tokyo.
Me and my brothers have just managed to get into contact with our mother Wendy, who is in an area called Shichigahama in the Miyagi district, which is close to the epicentre of the earthquake.
There are other British expats with her, including an elderly couple who don't have anywhere else to go.
We're keen to get her out of the area, but I think she feels she has to look after the couple so she may not want to leave them - we'll have to see how things go.
I was in Tokyo at the time of the quake - on my way back home, waiting for a bus. I saw the bus infront of me starting to shake and I initially thought it was just the wind. But it then got stronger and I saw surrounding buildings shaking too so we rushed to the middle of the road in the open space.
Tokyo is a very scary place in these situations - as there are so many people who need to do the same thing in order to be safe.