Japan quake: Sendai residents queue for food and fuel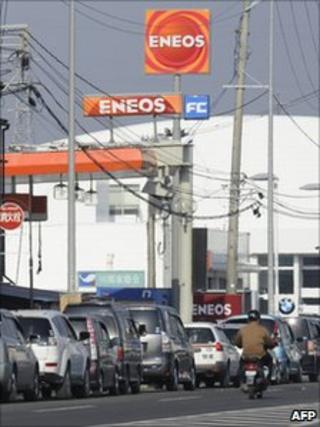 Two days after a devastating earthquake and then tsunami in Japan, residents in the coastal city of Sendai are trying to come to terms with what has happened.
The port, in the prefecture of Miyagi, was in one the worst-hit areas and is down the coast from quake-damaged Fukushima power station, where nuclear meltdown is feared.
Britons living there told BBC News that a major concern for residents at the moment is finding food and fuel.
Michael Tonge, 35, an English teacher originally from London, said that although people were worried about the atomic plant, they were "just getting on with things".
"Today I have seen queues at petrol stations of up to two miles," he said.
"Some shops are open, but there are queues. It seems like you have to listen to local radio to hear what is opening and then head down there.
"But I've also seen people queuing outside shops that aren't open. Whether they've heard they are going to open, I don't know.
"We are quite lucky because we live in a fairly new apartment in the city. By half way through yesterday we had water and they got our electricity on."
He said this also meant they could now charge mobile phones - although while they could take incoming phone calls, they could not make any.
"Text message is the only way we can contact anyone," he said.
Until then, his mother in the UK had had a fraught time trying to get hold of him, until she got through in the early hours of Saturday.
No trains
However, there was little public transport.
"Trains are still not working, some buses are working and some taxis - but not as many as usual because of the fuel problems.
"People aren't sure about work tomorrow. The majority of people won't be able to work and schools, I think, will be closed for some time."
He also told of the terrifying moments when the earthquake struck. He was teaching at the time.
"We couldn't stand up. The quake never seemed to stop - such powerful shaking for just over a minute. I had to jump on top of the nearest three kids and trying to keep them calm even though they and also I were so terrified," he said.
"The classroom was totally turned over, bookshelves down, the photocopier also fallen down."
Afterwards, he said, there were huge cracks in some roads and over bridges too, "so quite scary crossing them".
He said where he lived, in central Sendai, damage was minimal - the brunt had been shouldered by the tsunami-hit suburbs.
He had some fears for pupils he taught who lived in the suburbs, and he had been unable to contact some friends - but this could be because many still had no electricity and so could not charge their phones.
On the massive death toll of the earthquake and tsunami, he said: "People have accepted what has happened, but they have other worries. People are worried about the nuclear reactor.
"There are an estimated 10,000 dead in Miyagi, but that's just an estimate.
"Some people can't get in contact because they can't phone, so hopefully that number will be less."
'People are stocking up'
Another Briton, Dennis Mensa, from London, is on a year-long working holiday and is currently stranded in Sendai.
He said the situation had improved since Saturday but they were still experiencing small aftershocks.
"The electricity supply came back on at 11pm yesterday evening, so now we are able to watch the TV news. I only found out about the fatalities on the coast and the situation with the nuclear plant last night - now I'm really worried.
"There are many more shops open today but they are running out of some staple foods, like rice.
"No restaurants are open, and you have to queue to buy anything.
"I really want to leave Sendai - I was supposed to go to Tokyo today - but there is no public transport out of the city. I am now stuck here indefinitely."
There are reports of supplies running low in several other Japanese cities too.
Daniel Millichip, a British student living in Tokyo, says there have been problems with basic essentials such as water and bread.
"Today I haven't seen any bread in any shops. I've been in about 10, 15 shops, and not seen any," he said.
"People are stocking up, clearly. People are, I guess, worried about the nuclear problem and power shortages, meaning that shops will be closed."
Mark Kemp, an English teacher from County Durham, has moved away from his home in Koriyama because it was near the damaged Fukushima nuclear plant.
But he told the BBC he had also experienced problems with shortages.
"Daily life was becoming difficult in Koriyama," he said. "We had no water or gas, there was a threatened power strike, and the shops were running out of food."
"Here in Kitakata there is very little damage from the earthquake, but there are long queues in shops and many things, including petrol, are being rationed."
"Still, we are very happy to have hot food and showers again!"