Prince Andrew cancels Saudi trip over security fears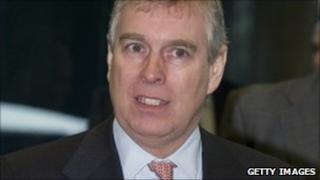 Prince Andrew has pulled out of a trip to Saudi Arabia due to concerns about security, Buckingham Palace has said.
The Duke of York was due to travel to the country next week in his position as UK special trade representative.
There have been calls for him to resign in recent days following criticism of his friendship with convicted US sex offender Jeffrey Epstein.
Earlier this month, Prince Harry pulled out of a charity polo match in Dubai because of unrest in the Middle East.
Under pressure
The prince's trip to Saudi Arabia, organised by government business body UK Trade & Investment, was designed to boost defence contracts.
But a spokeswoman for Buckingham Palace said that "due to safety issues in the region", the visit had been postponed.
The Press Association quoted a palace source who said: "Any suggestion that this had anything to do with recent UK media coverage is absolutely not the case."
The prince has been a trade envoy since 2001, but he has been under pressure because of his links to Epstein, who was sentenced to 18 months in prison in 2008 for soliciting a minor for prostitution.
His judgement has also been questioned for holding meetings with Libyan leader Col Muammar Gaddafi's son Saif, and for entertaining the son-in-law of Tunisia's ousted president at Buckingham Palace.
Several Labour MPs, as well as former Middle East ambassador Stephen Day, have called for the prince to resign, but David Cameron has given him his full backing.