Newspaper review: Papers wonder at Japan's tragedy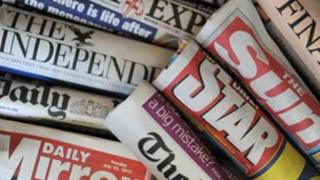 Front pages are filled with powerful images of the earthquake and tsunami in Japan, as all the papers reflect on the enormous scale of the disaster.
"A 30ft-high wall of water, mud and debris careering inland at 100mph swept away everything in its path," says the Daily Mail.
The Daily Telegraph says the quake and the deluge which followed left Japan "battling to avoid a nuclear disaster".
It says a nuclear reactor's cooling system failed after the quake.
Uprooted houses
Boats were ripped from their moorings and sent hurtling down streets by Friday's tsunami, says the Sun.
"They mingled with bobbing cars and whole uprooted houses, some in flames after gas pipes exploded," it goes on.
Hundreds of fires continued to burn overnight in the coastal town of Kesennuma, says the Daily Mirror.
"A cruise ship sank and four trains packed with passengers disappeared," according to the report in the Daily Star.
Shaking got stronger
"In Japan there is no excuse for not being prepared for earthquakes," a British office worker is quoted as saying by the Times.
But he admits that Friday's quake was "the most frightening I have ever experienced".
What is terrifying is how the shaking gets stronger and stronger with no way of knowing when it will end, he adds.
A UK teacher tells the Daily Express: "The entire building was swaying and I began to think 'this is it'."
Calm response
The Financial Times says the earthquake and tsunami pose a huge challenge to Japan, already beset by economic uncertainty and political discontent.
But it adds that the government's initial response appeared calm and competent, with orderly evacuations and prompt mobilisation of the military.
A Guardian writer says PM Naoto Kan had been facing "a mountain of problems".
Now an even bigger test hangs over him as the country needs strong leadership more than ever, the commentator adds.