Lord Patten's BBC Trust role approved by MPs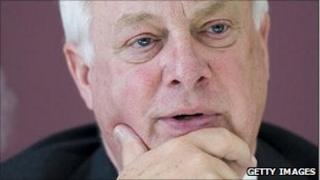 Lord Patten's appointment as the chairman of the BBC Trust has been approved by a Commons committee.
Culture Secretary Jeremy Hunt said he welcomed the committee's conclusion and would now recommend Lord Patten for the job.
Lord Patten, 66, addressed the Culture, Media and Sport Committee in a pre-appointment hearing on Thursday.
He will replace current Trust chairman Sir Michael Lyons who leaves on 30 April after a four-year term.
The committee's report recommends that he gives up some more outside interests to enable him to carry out his role at the BBC "should that become necessary".
Questioned by MPs on the committee, he said he had given up several jobs already, including positions on the Global Leadership Foundation, the International Crisis Group and Medical Aid to Palestine, to make time for the BBC role.
But Lord Patten said he would remain a member of the Advisory Board of BP and chancellor of the University of Oxford.
When he announced he was leaving the position last year, Sir Michael Lyons said the growing workload for the part-time position had made him "increasingly concerned" that it was squeezing out other demands on his time.
During the MPs' questioning, Lord Patten, a former Cabinet minister and chairman of the Conservative party, rejected a suggestion by MPs that he would be seen as a "party stooge".
He said he would give up the Tory whip in the Lords but remain a Conservative Party member if confirmed as BBC Trust chairman.
During the hearing he said he was a big fan of Radio 4 but did not watch EastEnders.
The committee said it was "surprised" that Lord Patten's knowledge of the BBC's output on television and radio was limited.
"However, having questioned Lord Patten, we consider him a suitable candidate for the post and we look forward to working with him in the future," the MPs' report added.
Chris Patten, the son of a jazz musician, attended a Roman Catholic day school in Ealing, before winning a place at Balliol College, Oxford.
Shortly after leaving university he was offered a BBC traineeship but he turned it down, preferring to take a job in the US working with the Republican Party.
He went on to become environment secretary, the last governor of Hong Kong and an EU commissioner.
The BBC Trust is the governing body of the corporation, but it says on its website: "We make sure BBC managers are doing their jobs properly, rather than managing the BBC itself."