Deepcut deaths investigation 'failed to follow leads'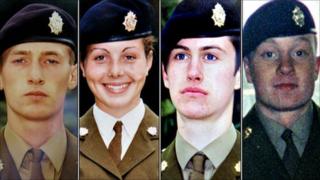 Detectives investigating the deaths of four soldiers at the Deepcut barracks failed to follow vital leads, according to a report seen by the BBC.
Four soldiers died in unclear circumstances at the Surrey army base between 1995 and 2002.
The Devon and Cornwall Police report said Surrey Police's probe into the deaths did not properly consider a list of hypothetical suspects.
Surrey Police said they had considered all possibilities for the deaths.
'Unknown white male'
Privates Sean Benton, Cheryl James, Geoff Gray and James Collinson all died from gunshot wounds. A coroner recorded a verdict of suicide for Pte Benton - but the inquests into the other three returned open verdicts. At the time of the deaths, there were allegations of bullying at the barracks.
Devon and Cornwall Police reviewed Surrey Police's investigations - and its 140-page report says that Surrey was aware of a number of theories suggesting that specific individuals, some of whom were named, could have killed the soldiers.
However, the review team concluded that it was impossible to establish whether or not the individuals should have been considered suspects or eliminated from inquiries.
One of those theories was that an "unknown white male" had killed Private James.
"The unknown male should have been subject to a Trace and Interview action," said the report.
"Operation Stanza [the review] believes insufficient investigative work took place to identify this unknown male who could have potentially been a suspect."
Colin Sutton, a recently retired detective chief inspector at Surrey, worked on two of the Deepcut deaths.
"The message I found I was getting from above was 'we need to conduct an investigation which is thorough and open,'" he said. "But at the same time there was another clear message: 'But these were suicides, weren't they, and that is where it is going to end up and that's what you will end up proving'.
"I largely ignored it and carried on trying to find out the facts and establish what had happened before I even considered the why," he said.
'Public inquiry' call
A large part of Devon and Cornwall's review looked at potential problems over the "mindset" of officers at Surrey.
The review said: "While acknowledging the large quantity of work conducted by Surrey Police with an open-minded intention, Operation Stanza has found some evidence of a possible mindset held by key individuals directing and controlling enquiries who have indicated the re-investigations were in some way 'different'."
Des James, Private Cheryl James's father, has now called for a public inquiry.
Mr James said: "It was clear to us that the investigation was about a suicide not an open-minded investigation to find out what had happened to my daughter and the other three boys."
"So [the report] simply confirms what we have always believed - that this was a hurried investigation, put together quickly, more to placate public opinion and media attention than to realistically and honestly find out what happened to these young people."
In a statement Surrey Police said the force had had "an open-minded approach" and "considered all hypotheses with equal weight".
The statement continued: "Homicide was one of several potential hypotheses into the unexplained deaths.
"We believed that this investigation was different to a standard murder investigation because these were unexplained deaths.
"However, we did interview a number of people as significant witnesses to ensure that we fully examined their roles in the events that took place and we adopted and used the broad principles contained within the murder manual.
"Devon and Cornwall Police produced no evidence to say that we missed anything by not following this process."