US sport scholarships 'false hope' for UK students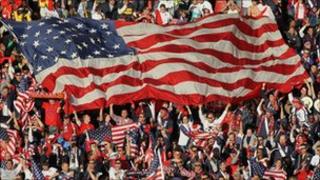 College sports in the US are hugely prestigious with teams boasting top class facilities and stadiums.
So it is little wonder that with university tuition fees on the rise, the idea of a sporting scholarship in the US is more attractive than ever to British youngsters.
But while recruitment agencies can help families through the application process, the BBC has spoken to parents who say one leading agency has shattered dreams by making promises it could not fulfil.
"It ended up in a lot of pain and heartache. He's a young lad who is good at football, who paid the money and got stuck in a rut," said Bradford father John Ward.
His son Dayne signed up to FirstPoint USA, a Glasgow-based consultancy which aims to help place youngsters with US colleges, in 2008.
Like many parents, John was keen to encourage his son to study abroad believing it would broaden the youngster's horizons.
There was also the prospect of a scholarship, which would reduce the cost of studying, making the degree considerably more affordable.
That is where FirstPoint USA came in. Mr Ward told 5 live Investigates he now believes one of the company's scouts made unrealistic promises about the financial assistance available, simply to persuade him to hand over an up-front fee and sign a contract.
"My son was told he was one of the top 5% of the lads they had signed and that the best US colleges and universities would be looking at him," said John Ward.
"They said he was looking at a 90% scholarship. So we signed the contract and paid the money. But it's turned into a joke. We've paid a £2,000 fee for nothing. We could have got the contacts for the universities over the internet."
Dayne did get offers from US colleges - but he said the level of financial help on offer was nothing like what the family had been led to believe by FirstPoint USA.
`Nothing affordable'
"At the presentation the company made, they were showing us all the fancy stadiums we could be playing at," said Dayne.
"But my first thoughts were, 'how expensive is it going to be?' and, 'would I get financial aid?'
"They were saying the funding was there. I have been offered a few places - but one would have meant I would have had to pay $17,000 (£10,451) for my first year at college. We've had nothing affordable."
In fact, the contract Dayne's father John signed made no such promise of a guaranteed scholarship - which he says was at odds with what he had been told by an employee of the agency.
Since we contacted FirstPoint USA and brought the case to their attention the company offered Mr Ward and his son a full refund.
And the managing director, Andrew Kean, said his company had successfully landed more than $100 million (£61.5 million) in scholarship funding for British students and stressed a video show to potential clients spelled out the range of scholarships on offer and the need for students to make up the shortfall themselves.
But John Ward is not alone in his criticism of FirstPoint USA.
Tony Ward (no relation) from Cheshire claims the company told his teenage son, Tom, he was suitable for a football scholarship but the contract made no guarantees.
`Dreams and expectations`
"We were told we would be getting three scholarship offers, each would be what was referred to as a 'full-ride' where the three main components would be covered - board, food and tuition fees.
"If the contract had said that, I would have signed and paid the money," Mr Ward added. "But when it arrived it made no mention of anything being guaranteed."
Tony Ward did not sign, and his son Tom is now playing football in the US on a smaller scholarship and through another agency, but he feels FirstPoint USA played on his son's dreams and expectations.
"My son could hear the words 'super-stadium', 'America', 'playing soccer' and, 'guaranteed' - that's all it meant to him. He left the details to me."
Mr Kean of FirstPoint USA told us that in the cases we had highlighted no-one had made an official complaint.
"We have never been made aware of any complaint or any concerns from the clients and as such have not had the chance to act on any of the issues raised before.
"If the issues had been presented to us as an official complaint it would have been subject to an internal investigation and the customer would have had the opportunity to discuss their complaint with our chief executive."
He said the company worked hard to give "exceptional service" but that if staff did deviate from the company's strict rules they would face disciplinary action.
There are no statistics showing how many young British sportsmen and women are playing in US college sports' teams, but staff at one smaller varsity soccer league (university football league) told us it had up to 250 English and Welsh youngsters on the books in 2010.
But Robert Kehoe, college programs director for the National Soccer Coaches Association of America, says competition is tough and getting a place is not easy, especially if you are expecting the college to pay your way.
"It's not a given, not at all," he explains.
'Better regulation'
There are controls on the number of scholarships each university team can offer - as a way of trying to get a balance of talent across the colleges.
Mr Kehoe says: "For our most visible and popular schools, the teams have almost 10 scholarships. But these scholarships can be divided between 30 players."
He said other teams had even fewer scholarships to offer with the majority of youngsters paying their own way.
The scholarships are given out by the coaches of each individual university, so there is no central record of how many are awarded to British students.
But Russell Horsley of the English Colleges Football Association says he is getting enough complaints about unrealistic promises of scholarships and poor service from across the industry to call for better regulation of the UK companies that offer to help.
He said: "Over the past five years we have had around 15 students a year unhappy with what they have ended up with. They've either ended up with nothing or have got something which was far from what they were expecting."
You can hear the full report on 5 live Investigates on Sunday, 13 March at 2100 GMT on BBC Radio 5 live.
You can also listen again on the BBC iPlayer or by downloading the 5 live Investigates podcast.