7/7 inquests: Families want lessons to be learnt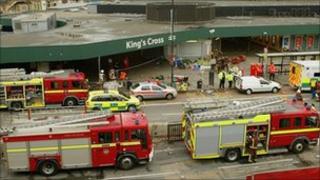 Relatives of the 52 people killed in the 7 July bombings have made a series of recommendations to the coroner on action needed to prevent future deaths.
Their lawyers raised 33 specific areas where action needed to be taken to protect the safety of the public.
This include nine points concerning the alleged failure by MI5 and the police to prevent the attacks.
The inquests are ending after hearing almost five months of evidence following the 2005 suicide bombings.
On Thursday, coroner Lady Justice Hallett heard submissions about what findings she should make under "Rule 43", which gives her powers to make recommendations during her verdicts.
Barrister Caoilfhionn Gallagher outlined the 33 areas where the families want to see changes.
She said: "For many of the families today in one way is the most important part because it is looking to the future and seeing whether lessons can be learned from the atrocities of 7/7 and whether the deaths of their loved ones can contribute to saving others."
Plain English
One of the recommendations is for stricter rules about the sale of hydrogen peroxide, the main ingredient in the home-made bombs.
The terrorists bought, without restrictions, large quantities of liquid oxygen, a diluted form of hydrogen peroxide.
Ms Gallagher said: "Almost six years after 7/7 a recommendation is still justified to emphasise the need for this to be dealt with very quickly."
Another barrister, Christopher Coltart, raised the need for the emergency services to use plain English to avoid misunderstandings which could cost lives.
Last week Lady Justice Hallett hit out at management jargon last week, saying: "When it comes to a situation like a major incident, people do not understand who and what the other person is."
He also called for London Fire Brigade to consider whether firefighters should be given more discretion when deciding whether it is safe to enter the site of an incident.
"The fact of the matter is that on 7 July, 2005 they were operating in the same environment as the other emergency responders and yet did not take or were not willing to take the same calculated risks that were being taken by, for example, British Transport Police at King's Cross," he said.
Four suicide bombers killed 52 people on three tube trains and a bus.
The inquests, which heard from 309 witnesses and had a further 197 statements read, were held at the Royal Courts of Justice in London.
Although Lady Justice Hallett has not indicated how long it will be before she comes back to court with verdicts, it is expected to be before the court rises for Easter.