Police pay: Officers 'must accept share of cuts'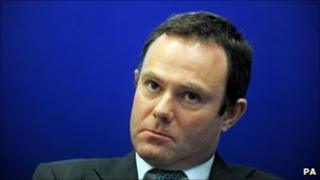 The relationship between the police and the public will be damaged if officers do not accept their share of spending cuts, the policing minister has said.
Nick Herbert told a policing conference in Westminster the service "cannot be immune" from the need to make savings.
A report on police pay in England and Wales has said several allowances and special payments should be scrapped.
Senior officers say 28,000 jobs could go because of plans to cut government police funding by 20% over four years.
The Association of Chief Police Officers said that would mean 12,000 police officers and 16,000 civilian staff jobs being cut. The Police Federation of England and Wales, which represents rank and file officers, says it would be "devastating".
'Challenging'
Mr Herbert was applauded when he was introduced as "the man who many see as the architect, the driving force, of police reform".
But the BBC's political correspondent Laura Kuenssberg said there was "muttering and shaking of heads" when the minister later referred to his hope that police would agree to a two-year pay freeze.
Mr Herbert accepted that the changes were "challenging" for officers, but he said they were manageable.
"I think it would potentially cause those who work in the police service difficulty if others in the public sector were playing their part and they, as individuals in the police service, weren't," he said.
"Police officers are special people. And I believe in the profession of policing", he said. "But that doesn't exempt the police service from the need to make savings."
Mr Herbert said he believed the total savings police forces could make by the end of the four-year spending review would exceed £2bn a year.
"Failing to act would place forces in a position where more jobs were threatened than would otherwise be the case if action could be taken in relation to pay."
'Management tool'
The author of the report on pay which was published on Tuesday, Tom Winsor, also spoke at the conference.
He defended his proposals, saying the current system of payments was "malfunctioning and discredited".
Mr Winsor insisted that police officers themselves had told him that they wanted reform, and he said the suggestion that many officers could lose £4,000 a year in pay was "misconceived".
"These are not reductions in the basic rate of pay," he said. "There is no right to work overtime, overtime is a management tool used to meet short term deficiencies in capacity."
Thursday's conference was supported by the Home Office, by the Police Federation and by police authorities, which will be abandoned as part of government reforms.
Nick Herbert said the the government would consider the Winsor report "very carefully", and would announce in due course what proposals it would bring forward.