Eritrea 'denies' UK consular access to detained Britons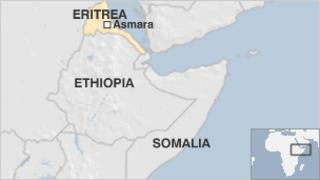 Eritrea is refusing to give information about four Britons it is holding and is denying consular access to them, a Foreign Office official has said.
The UK has been trying to contact the former Royal Marines since 24 December when it became aware of their case.
Eritrea has not confirmed or denied it detained the men who it is understood had been guarding a merchant ship from pirates in the Indian Ocean
They were reportedly held by the navy after a gun battle.
The Foreign Office said it had requested consular access from the Eritrean authorities at "every opportunity" including through speaking and sending letters to senior officials.
Updated advice
Tim Hitchens, the Foreign Office's director for Africa, told Reuters: "We need to go meet these people and find out who they are, what number they are, whether they are being treated properly and pass messages from their families to them but that hasn't happened.
"We are simply saying we have a consular responsibility towards British nationals."
Last month, the foreign secretary instructed embassies in cities including New York, Khartoum, Nairobi and Beijing to raise the UK's concern with local Eritrean ambassadors.
The Foreign Office, meanwhile, said it updated its Eritrea travel advice on 24 January to highlight the difficulty it had gaining consular access.
"There are serious constraints on what the British Embassy can do to assist British nationals in Eritrea," the advice reads.
"There have been recent instances where the Eritrean authorities have refused consular access to detained foreign nationals."
After a long battle for independence, Eritrea has fought two conflicts, including a border war with Ethiopia in which some 100,000 people were killed.
In April 2009, it became the target of UN sanctions for its alleged support of Islamist rebels in Somalia. It withdrew its membership of the African Union in protest for nearly two years, and has become increasingly isolated.