Barnardo's to help at asylum families removal centre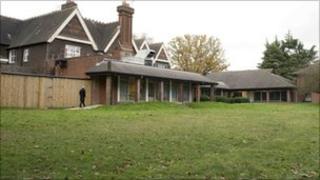 The children's charity Barnardo's is to run welfare services at the government's proposed centre for removing some failed asylum seekers.
The charity's surprise move comes as part of the Home Office's pledge to stop detaining children in the immigration system.
The UK Border Agency will convert a special needs school near Gatwick into the centre.
Ministers will have the power to order families to be held for up to a week.
The Home Office's new system, announced earlier this year, involves increasing pressure on failed asylum families to leave with the help of various inducements and counselling.
Under the plans, a special new panel including child welfare experts will give the UKBA the go-ahead to take families to the centre when there is proof that they are resisting all other attempts to deport them.
The "Pre-departure accommodation", described in local council planning documents, will have nine private apartments for families and spacious grounds. It also has a 2.3m high perimeter fence.
Family members might be allowed to leave the grounds under escort if officials believe they will not abscond. Families will be held for up to 72 hours initially - but some could be held for up to a week if a minister approves.
Barnardo's, which has been part of a coalition lobbying the Home Office, says it has agreed to run welfare, counselling and children's play services because the families involved would need support at a critical moment in their lives.
It also believes its presence will help hold the Home Office to its commitment to run a more humane removal system.
'Family-focused'
In a speech on Thursday defending the decision, the charity's chief executive Anne Marie Carrie is expected to say that she will speak out if the centre is used routinely, rather than as a last resort.
"We recognise that when every other avenue has been explored, when a family has no right to remain in the UK and when the independent return panel deems it appropriate - secure pre-departure accommodation may, as a last resort, be necessary," Ms Carrie is expected to say.
"For the government to meet its commitment - this accommodation cannot just be a 'detention centre' by another name. It needs to be a truly family-focused centre that offers its residents access to high quality welfare and support services during their last few days in the country."
Barnardo's decision has surprised some campaigners who believe that the UKBA has been trying to back-track on pledges made by ministers to end child detention.
But one senior Liberal Democrat source described the deal with Barnardo's as a huge step in taking the emotion out of deportation and replacing it with humane treatment.
Immigration Minister Damian Green welcomed Barnardo's decision.
"It is crucial that the welfare of children remains an absolute priority during the returns process and the use of this new accommodation will be a last resort," he said.
"It will, however, have an entirely different look and feel to an immigration removal centre with a high degree of privacy for each family.
"I believe our new approach is both fair and humane. We are providing assistance packages and family conferences to ensure families understand their options, and will be trying to ensure that families can remain in the community prior to their departure home."
Heaven Crawley, professor of international migration at Swansea University, said the new centre was "not called detention but clearly is".
She told BBC Radio 4's Today programme: "We have been looking for alternatives... ever since the government announced its commitment to end detention and what's being proposed in this new process is really something of a repackaging".
Prof Crawley called for improvements in asylum case management so that families "accept the final decision" and return home voluntarily without having to be subject to detention.
She said there were examples of such a system working in Canada, Australia and other parts of Europe.