Smoking: No more hard sell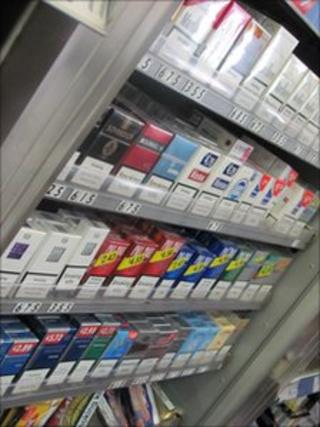 Smoking, once very much in the mainstream of British society, was pushed another small step towards the edge this week.
In the 1970s nearly half of adults smoked. These days it's just one in five.
Now, after banning smoking inside pubs and other public spaces, the government has unveiled yet more measures aimed at discouraging us.
From 2012 large stores will have to keep cigarettes and other tobacco related products under the counter. Small shops on the High Street will have to follow suit by 2015.
And in the future cigarettes, which are heavily taxed and which are already sold along with a battery of very visual health warnings, could be sold in much plainer packets.
Corner shop
England (other legislation applies in Wales, Scotland and Northern Ireland) is joining a small club of countries which have taken the fight against tobacco to the corner shop.
Canada, Iceland, Thailand, the Irish Republic and Norway have already banned visible tobacco "from the point of sale" - in other words from the valuable retail position next to the till. Finland will bring in the rule next year.
To health campaigners it all makes sense. Amanda Sandford, who manages research at the anti-smoking group Ash, said it was very pleased the government had "not given in to tobacco company pressure".
She claimed that its research indicates the additional move towards a much plainer packet would remove any health "misconceptions" there may still be about how certain types of cigarettes may be healthier than others.
But speaking to the BBC on a High Street in west London, smokers made it clear the decision to start or stop is a complex one and simply placing the packets under the counter would just be a small factor in any decision to quit.
Ade asked not to give his second name because, even after almost 20 years of indulging, his mother still doesn't know he's a smoker.
A lot of young people around him were smoking, he said, and it worried him.
"But I've smoked from the age of 15 - I'm 34 now - and I started because of stress. I gave up for two years when my child came along, but you know if people are going to do a thing, they're going to do it.
"To me the cancer pictures on the packets and so on are a waste of time. If it was left to me I'd increase the price."
Fiona Edwards, 23, who has a 10-a-day habit, said she didn't think the new measures announced this week would work.
"It's because smoking is linked to drinking. That's why I can't give up.
"Even the smoking ban didn't do much, I just stand outside the pub. I've been smoking for three years and the majority of my friends do it.
"I've cut down a lot but it's not the marketing or what's on the packet - it's a culture of going for a drink and a cigarette after work. To me that's a major issue."
A little further down the street Joanna Hewitt was having a cigarette with a friend outside her office.
"It's become like being a second class citizen, being a smoker," she observed.
"I've heard about these measures. They're good for the kids but I don't think it'll make a big difference.
"I don't think anyone buys a cigarette because the packet looks nice. I chose my brand because it was cheaper.
"Now I need to give up because I want to have children. I'm 25, I've smoked for eight years, and I can already feel it having an effect on my health."
Retailers
A lobby group for small shopkeepers expressed its disappointment with the measures.
Debbie Corris of the Tobacco Retailers Alliance said they were likely to place a "huge burden" on independent retailers.
Back in west London Glen McMullen, who's been running his small shop since 1977, said the new measures were being heaped on others which, in his view, made it harder and harder for business owners like himself to make a living.
"Profit margins are very small. A typical packet of cigarettes costs me £6.50 - we'll sell it at £6.80, that's a 30 pence margin. Really very slim."
Gesturing at the rack of packets he said he only stocked them "for the convenience of the customers".
"If you don't have them they'll go elsewhere.
"The youngsters still want to smoke, and you still get aggravation with them. They wait outside and send the oldest looking one in.
"i don't think the new measures will curb their enthusiasm. They're doing it because they think it's fashionable.
"Mind you we're selling less. I think it could be the cost, or maybe the health reasons."