Analysis: Can police pay be cut?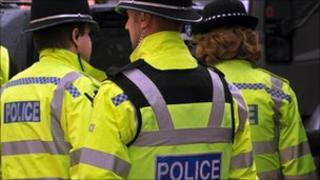 The first part of a review of police pay in England and Wales has recommended major changes, including the scrapping of long-standing enhancements. Tom Winsor, the report's author, says that these short-term proposals could save the police £1.1bn from the pay bill - more than half of which could be used to reward officers working in the toughest jobs.
Why overhaul pay?
Tom Winsor says in his report that the police are paid comparatively well compared with others in the public services, particularly the other emergency and armed services. He says that the big problem is that there has been no review of pay and conditions since the late 1970s.
In 1978, the vast majority of police were men who worked shifts - and hardly any of them were graduates.
But today's force is massively more diverse with almost of a third of officers holding a degree. Six out of 10 officers work anti-social shifts - even though their pay deal pays them to work shifts at all hours. Only 40% of officers work in stereotypical beat-based roles.
The reality of the modern job is specialist units - from child abuse to regional crime - because chiefs believe they clear up more crime than simply sending uniformed officers onto the streets.
What all of this means, argues the report, is that police are being paid under a system designed for a world that simply no longer exists.
Pay enhancements
Two particular enhancements aimed at constables are in the cross-hairs of the Winsor review:
The Competence-Related Threshold Payment (CRTP)
Special Priority Payments (SPP)
CRTP does not date back to the 1970s - it was actually an attempt at performance-related reforms introduced in 2003.
At that time, police chiefs were given the chance to earn bonuses of up to 15% and superintendents were told they could see themselves accelerate up the pay scale if they were good at the job. Constables gained the right to apply for CRTP - a special top-up of £1,212 available to those who had been at the top of the pay scale for at least a year and could demonstrate they were among the top men and women in uniform in the force.
Ministers thought that three-quarters of constables might qualify. But in reality 98% of officers who applied got the payment. In other words, says Winsor, it has nothing to do with competence and performance.
Special Priority Payments have, if anything, proved even more controversial and divisive.
These were also introduced in 2003 and can be as high as £5,000 - costing the taxpayer £84m a year. SPPs were designed to attract and retain people to tough or unpopular posts in which the officer is effectively asked to carry higher responsibilities than their rank would suggest.
The only problem with the system was that it was subjective. Some forces considered some posts more demanding that others - and that list could be changed. That led to canteen divisions between officers who could not understand why one was being paid more than another in particular circumstances.
The report recommends scrapping the system and introducing what it says is a clearer and fairer system called Expertise and Professional Accreditation Allowance. This top-up of £1,200 a year would only be available to officers who are qualified and working in strategically vital areas:
Most detectives
Firearms officers
Officers trained in public order policing beyond the basic level
Neighbourhood officers
Why these posts? Winsor's entire thrust is that too much money is being spent on the salary of officers who are not in the toughest and most important jobs.
One example he cites is detectives investigating online child abuse. These officers may not work unsocial shifts - but they have to deal with the immense psychological pressure of viewing appalling images of abuse created by paedophile rings.
He says the police service needs to reward the hardest jobs and "incentivise" officers and chief officers to shift resources to "hard-edged" police jobs.
The scrapping of these allowances has one specific aim: To focus chiefs on deploying to the most important jobs, while discouraging some officers from seeking out the easiest.
That is an argument that does not necessarily wash with the Police Federation which represents rank and file officers.
It argues that constables in particular do not exactly get a choice of what they do - which is why the various allowances and bonuses have been a legitimate means of recognising the demands placed on all officers.
The federation argues that police face a perfect storm of pay cuts, funding cuts and pension reforms - and morale is at rock bottom.
But the report says that a freeze in police pay does not necessarily mean that pay gets frozen. It says that an automatic escalator in the system means that a constable with seven years' service "would cumulatively receive an additional £4,143 between September 2011 and 2013, irrespective of the pay freeze".
Winsor says this is an example of the kind of old-fashioned thinking about pay that has to end in an era of massive public spending cuts.
Overtime and unsocial hours
One of the Winsor report's other key recommendations is to change how overtime and unsocial hours work so that chief constables can efficiently plan how to use their resources.
In short, the report says the system needs simplifying to differentiate between reasonable expectations of additional hours and the occasions when an officer should be paid much more for losing an agreed rest day or leave.
Winsor says officers should get a flat 10% hourly bonus for work between 8pm and 6am - but at the same time they should lose some of the rights they have to various overtime boosts to the pay packet.
These include a change to payments for casual overtime - largely meaning short periods of working, such as dealing with an important message on a day off.
At present, an officer can theoretically claim a minimum four-hour overtime payment.
Winsor says he has not found evidence that the four-hour claim has been abused - but he says it is clear that the system is open to abuse - so officers should only be paid for the overtime they work.
What happens next?
The Police Federation is clearly worried about its members' terms and conditions - but there is more and possibly worse news to come. Beyond the detailed tables on overtime pay rates, the report's subtext is clear - police practices are stuck in another century.
Later this year, part two of Tom Winsor's report will be published - and it is expected to call for yet more radical and far-reaching changes.
One idea that he is already floating is whether to allow pay to be cut if an officer - chief or constable - is found wanting. This would be an extremely radical step for any public service organisation to take - and particularly one for the police, who are banned from striking.
He is also looking at regular fitness tests for officers amid what he describes as a "dramatic" and unexplainable increase in the number of them on restricted duties.
Winsor applauds officers for their extraordinarily willingness to walk towards danger as the rest of us flee. But then, buried in the report's conclusions he attacks some of them for playing the system.
"There should be a rebalancing of the needs of the public and police service," he writes. "At present, officers have too great a say on how they are deployed and if, not when, they leave the service.
"In the longer-term, there should be an evaluation of the military model of short, medium and long-service commissions, to end the problem of secured indolence and ensure that officers remain in the police for the right reasons."