Hague defends help given to UK woman in Libya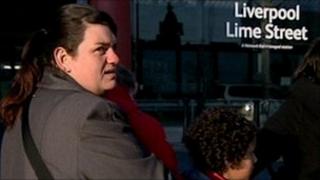 The government has rejected claims that it did not give enough aid to a British woman fleeing violence in Libya.
Jennifer Currie, 28, from Merseyside, eventually got out of the north African country by travelling through Tunisia and flying home from Germany.
However, Foreign Secretary William Hague insisted his department had done everything it could to help her.
Earlier, Mr Hague was criticised following a botched SAS mission to make contact with the Libyan opposition.
'Get to safety'
Ms Currie is now back home in Thornton near Crosby after visiting her partner's family near Tripoli with her two daughters, aged six and eight months.
Labour MP for Sefton Central Bill Esterson told the Commons he was disgusted about her case.
"It took the Foreign Office 36 hours to agree to pay for a taxi to the airport, and my case worker had to persuade the Foreign Office to arrange flights home," he said.
"Jennifer had to agree to pay £1,400 for the tickets when she got home."
Mr Hague responded: "We are delighted that his constituent and her children have been able to get to safety from Libya.
"FCO (Foreign & Commonwealth Office) staff in London bought flights for her and her children and ensured she had assistance at Tripoli airport.
"They met her in Tunis and ensured she made her flight via Frankfurt to the United Kingdom and we're not expecting her to repay the cost of the air fares."
'Latest setback'
Labour had accused the government of "serial bungling" over the mission aimed at making contact with those leading opposition to the rule of Libyan leader Muammar Gaddafi.
Six soldiers and two others described as Foreign Office officials were detained for two days by rebels in eastern Libya but were freed on Sunday and left the country.
Shadow foreign secretary Douglas Alexander told the Commons that it was seen as "just the latest setback for the UK and raises further serious questions about ministers' grip and response to the unfolding events in Libya".
BBC security correspondent Frank Gardner has been inquiring into the background to the mission, particularly the reason why the heavily armed team was sent in a helicopter to a rural area in the middle of the night.
"The answer I'm told is that they had sensitive communications equipment in a number of cases and they didn't particularly want to unload this in the full glare of publicity in Benghazi harbour. That doesn't in my view excuse it, but that's the reason they were given."
"What's not clear is if this communications equipment was meant as a gift to the people they were going to go and see, to make contact with or whether it was to set up some kind of secure link to British assets in Eastern Libya.
"The second question is why they were arrested and handcuffed in a humiliating showdown. They were in contact with the opposition, but the people who surrounded them were the wrong rebels - a different group from those people, a sub-set."
Mr Hague said the personnel were withdrawn after a "serious misunderstanding" over their role.
RAF pilots rescued British oil workers stranded in Libya last week using a black and white Google Maps printout to land, it has emerged.
Flt Lt Stuart Patton, based at RAF Lyneham in Wiltshire, flew a C130 Hercules on the mission which had not been approved by air traffic control at Tripoli.
He said: "I'd been handed some information from the internet that had been hastily printed out, including a black and white satellite image from Google Maps.
"You had to laugh, and we knew were going to have to conduct an assessment of the site ourselves to see if it was suitable for landing."
'Finish the job'
A Tory MP has urged the international community to arm the Libyan opposition against pro-Gaddafi forces forces.
Mark Pritchard, vice-chairman of the Conservative foreign affairs and defence committee, said: "Having encouraged the Libyan people to make a stand, the international community must quickly provide up-to-date weaponry if Gaddafi's troops are not to retake lost ground and reconsolidate his regime.
"This is a time for clarity of purpose and supporting by all means necessary a Libyan solution to a primarily Libyan problem.
"In short, the international community needs to provide the tools for the Libyan people to finish the job."