Papers give gloomy predictions for Duke of York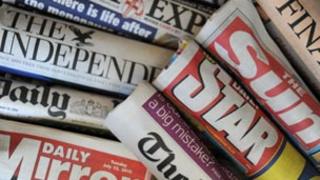 The Daily Telegraph says the Duke of York will pay the price for his association with a convicted paedophile because the government is to downgrade his role as Britain's trade ambassador.
The Times quotes government sources as saying Downing Street would "shed no tears" if the Duke of York resigned.
The Guardian says a top British Medical Association official has warned of the damage that could be done by the government's NHS reforms.
Dr Mark Porter is chairman of the BMA's hospital consultants committee.
The British "diplomat" captured in Libya was an MI6 spy, says The Sun.
But the paper says the operation went far from smoothly for the "bungling" James Bond.
The Daily Mirror says David Cameron has been accused of bungling an SAS mission in Libya which led to the crack team being seized by rebels.
The Independent says the US, desperate to avoid military involvement in Libya, has asked Saudi Arabia to supply weapons to the rebels in Benghazi.
The Financial Times says the former Business Secretary, Lord Mandelson, has launched a spirited defence of the previous government's ties to Libya.
He claims the "denunciation" of those involved with Muammar Gaddafi's regime had been taken to "ridiculous lengths".
Lord Mandelson said the "stigmatising" of those with links was unhelpful.
Grasping Euro MPs squander millions of pounds of British taxpayers' money on cosmetic perks including anti-ageing therapy, says the Daily Express.
The Daily Mail quotes a leading NHS official as saying that babies born at 23 weeks should be left to die.
Dr Daphne Austin, who advises local health trusts on how to spend their budgets, says £10m a year is spent trying to save such premature babies.
The Daily Star claims television bosses are poised to bring a traveller version of Britain's Got Talent to our screens.
The paper says it will feature stars of Big Fat Gypsy Weddings singing and dancing.