Census 2011: Forms on their way to millions of homes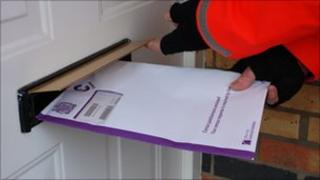 The 2011 Census is getting under way, with forms posted out to households around the UK.
The public will be asked questions about their jobs, health, education and ethnic background and must base all answers on who is in their household on Sunday 27 March.
The form is compulsory, but a question about religion is optional. The answers will be used to plan public services.
For the first time, people will also be able to fill in the form online.
The organisers of the survey say the questionnaire can be returned before, on or after Census Day - but the information must relate to 27 March.
There is a fine of up to £1,000 for failing to complete and return the form, but in 2001 only 38 people were prosecuted.
Expensive
2011 Census director Glen Watson said: "People should look out for the purple and white envelope landing on their doormat.
"Completing the census form promptly and sending it back to us means no-one will have to knock on your door to remind you."
Mr Watson said people could also fill in their details online.
"This will be quicker and it's better for us," he said, "because we won't need to scan the forms and decipher all that handwriting."
The Census is carried out once every 10 years. This year's survey is the biggest yet, but it could also be the last one.
Critics say it is intrusive, old-fashioned and expensive. A report is being prepared which could recommend scrapping the exercise.
The first information from the 2011 Census is expected to be released next year.
There are actually three different Censuses happening on the one day. Northern Ireland and Scotland each manage their own, and are run separately from the one being sent to 26 million households in England and Wales.