Libya unrest: UK diplomatic team released by rebels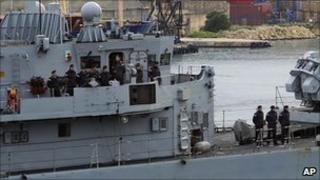 A British diplomatic team, including six soldiers believed to be SAS, have been freed two days after being detained in eastern Libya.
The men are understood to have left Benghazi bound for Malta on board the Royal Navy frigate HMS Cumberland.
It is thought the special forces soldiers were with a diplomat who was making contact with opposition leaders.
Witnesses said the men were detained by rebels after arriving near Benghazi in a helicopter early on Friday morning.
They were held after going to an agricultural compound when Libyan security guards found they were carrying arms, ammunition, explosives, maps and passports from at least four different nationalities, witnesses told the BBC.
The witnesses said the men had denied they were carrying weapons.
In a statement on Sunday, Foreign Secretary William Hague said the team, part of efforts to make contact with opposition leaders amid the unrest in Libya, had "experienced difficulties, which have now been satisfactorily resolved".
'Embarrassing'
He added: "We intend, in consultation with the opposition, to send a further team to strengthen our dialogue in due course.
"This diplomatic effort is part of the UK's wider work on Libya, including our ongoing humanitarian support.
"We continue to press for [Libyan leader Muammar] Gaddafi to step down and we will work with the international community to support the legitimate ambitions of the Libyan people."
Also on Sunday, Libyan State TV broadcast what it described as a recording of a phone call between Britain's ambassador to Libya, Richard Northern, and a rebel spokesman, in which they discussed the British team's situation.
On the recording, Mr Northern explains a team was in eastern Libya to prepare the way for a British humanitarian mission.
He then asks a senior opposition figure to intervene in what he calls a "misunderstanding".
The spokesman responds: "They made a big mistake, coming with a helicopter in an open area."
Mr Northern then says: "I didn't know how they were coming."
The recording has not been verified, but it is known that Britain had been negotiating the release of its team.
The BBC's Jon Leyne, who is in Benghazi, says the British mission appeared to have been an "embarrassing miscalculation".
He said the UK was "obviously unaware of the reaction likely to be provoked in this tense situation by a group of armed men arriving on a helicopter, in the dead of night".
No-fly zone
Earlier, Prime Minister David Cameron reiterated calls for Col Gaddafi to step down.
The Libyan leader is currently attempting to reassert control over the country from rebels who have taken much of the east of the country as well as some towns closer to Tripoli, in the west.
The UN estimates that more than 1,000 people have died in the unrest there, which follows public protests in neighbouring Tunisia and Egypt that saw their presidents overthrown.
Meanwhile, Defence Secretary Liam Fox indicated that a military no-fly zone over Libya remained a possibility, saying the issue would be discussed at a meeting of Nato defence ministers later this week.
"If we (Nato) were to decide on a no-fly zone, there would be a number of options. Would it be the whole of Libya, would it just be the population centres that we focused on?" he said.