Napo warns of community payback scheme 'chaos'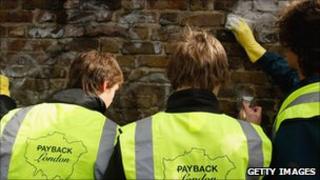 Handing over the supervision of criminals to the private sector "is likely to lead to chaos", the probation union Napo has warned.
Justice Secretary Ken Clarke is considering allowing private firms and organisations which help cut reoffending rates to make a profit.
But Napo said offenders were not a willing workforce and supervising and motivating them was a skilled task.
The government said it was looking at the "best options" to cut reoffending.
It wants to reduce the £4bn prison and probation budget by 20% over four years.
On Saturday, Ken Clarke outlined the government's new payment-by-results approach to the justice system, meaning the government would only pay providers if they reduced reoffending.
One element would be to allow the private sector to make profits and take commercial-type returns if they brought down reoffending rates.
However, Harry Fletcher, Napo's assistant general secretary, said: "Supervision of offenders is a skilled task. If it is handed over to the private sector with staff on the minimum wage, it is likely to lead to chaos.
"Offenders are not a willing workforce. Threats to staff are now a daily occurrence. Offenders need to be well motivated by staff in order to complete their hours."
A Napo poll of about 330 cases in England and Wales found more than a quarter of offenders on community payback schemes had been sentenced for assault.
Mr Fletcher added: "The government is purely motivated ideologically to save money and make profit out of public services rather than best value or protecting the public."
He went on to say many offenders were "characterised by drug and alcohol abuse, mental health issues and very low literacy and numeracy levels".
Mr Fletcher called for the government to review the role and purpose of the community payback schemes.
Luncheon clubs
A Ministry of Justice spokesman said it had to look at the "best options" to cut reoffending and wanted to see how private and voluntary sector providers could get involved in running community sentences.
"All providers would have to meet the same rigorous standards so sentencers have confidence in community sentences, and we can make sure offenders' compliance with their sentence is monitored and managed properly," he added.
Critics of the community payback scheme say it is too soft and weak - often involving charity shop work and serving tea at luncheon clubs - and should be replaced by more punitive "work orders".
The union has previously warned that the public were being put at risk by an increase in the physical and verbal abuse of supervisors of community payback schemes.