Prince Andrew: Hague joins defence of UK trade envoy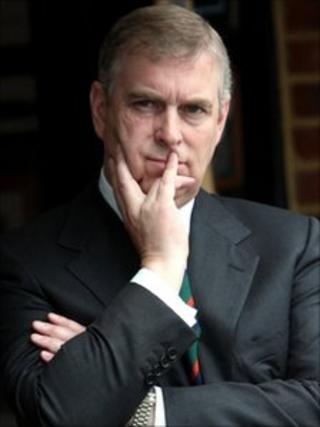 Foreign Secretary William Hague says Prince Andrew has done "a lot of good for the UK" in his role as trade ambassador.
The Duke of York has been criticised for his links to an American businessman who is a convicted paedophile.
But Mr Hague and two other senior Conservative MPs defended the work he has done to promote Britain.
And the Duke's private secretary said the criticism was "without foundation".
Alastair Watson wrote to the Times on Saturday to respond to what he called "widespread comment" on the Duke's relationship with Jeffrey Epstein.
The US financier was sentenced to 18 months in prison in 2008 for soliciting a minor for prostitution.
Insinuations
Mr Watson said the Duke of York had known the businessman since being introduced to him in the early 1990s. He added: "The insinuations and innuendos that have been made in relation to the Duke are without foundation."
Prince Andrew has been the UK's Special Representative for International Trade and Investment since 2001, with the job of promoting Britain's business interests around the world.
William Hague told BBC News he had "full confidence" in the work the Prince was doing: "I've seen a lot of benefits that he has brought in countries that I have visited, where he's been performing that role."
There have been suggestions in some newspapers that Prince Andrew could be stripped of his job.
Mr Hague said he had not had time to read the details of the comments but he said: "Certainly I've seen around the world a lot of good that he has done for this country."
'Jolly good job'
Other senior Conservative MPs have also spoken out in defence of Prince Andrew.
Richard Ottoway, who chairs the Foreign Affairs Select Committee, said he would have "had no idea what Mr Epstein's conduct may be in the future" at the time he met him.
"I think you actually ought to focus on what Prince Andrew is doing for the country", he said, "and in my judgement he's doing a jolly good job, and rather than attacking him through the media we should be defending him."
The International Development Secretary, Andrew Mitchell, said he had had several meetings with the Duke in the nine months since he took up his job in government.
He said: "He makes a valuable contribution to our work overseas, and obviously we respect that very much."